Overview
The Master of Science in Decision Analysis (MDA) is a unique program designed for rising professionals in diverse fields around the world. As a Minerva graduate student, you will acquire key transferable leadership and analytical skills, through the practical application of frameworks and concepts across multiple contexts
Key features
Synchronous, interactive online degree

Part-time program for working professionals

21 months to completion

Gain advanced leadership and analysis skills that span disciplines for effective decision-making

Engage with a diverse set of expert faculty and peers from around the world in small seminar classes

Attend active learning classes from anywhere in the world on Forum™, Minerva's advanced online educational platform

Advance your career with long-term coaching and talent development support

Accelerate your ability to make profound organizational and societal change
Program breakdown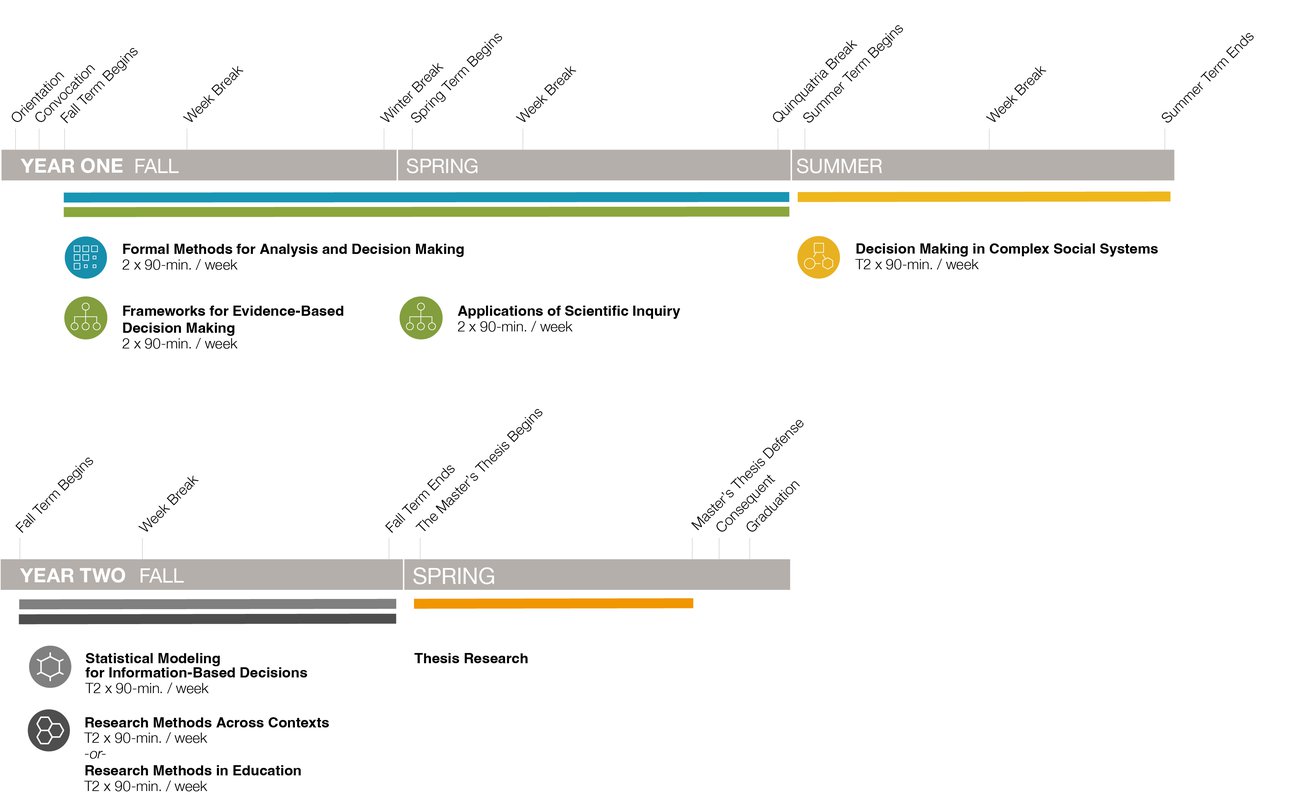 Admission process
At Minerva, there are no standardized test requirements (e.g. GRE, GMAT, or TOEFL) as these measures fail to accurately represent a students' true academic and leadership potential. Instead, our merit-based approach seeks qualified students who will benefit from, and contribute to, their graduate experience.
Minerva admissions does not have enrollment caps or quotas of any kind, so you are not competing with other applicants for limited, pre-selected spots. Regardless of where you come from, if you demonstrate the curiosity, drive, and potential to excel, you will be offered admission.
Part I: Application
Complete a short online form with basic information including your academic history and employment status. We also require your academic transcript(s) and a CV or resume.
Part II: Challenges
You will complete two unique challenges to measure how you think. The Challenges will take approximately 45 minutes to complete.
Part III: Interview
Select candidates will be invited for an interview. These interviews will be conducted online on a rolling schedule dependent on the evaluation of submitted materials.
Financial Aid & Tuition
The Master of Science in Decision Analysis is both affordable and can be financed with optional student loans. With semester payments of $7,900, the full 21-month program starting in September 2022 is $39,500. You should also budget approximately $500 for additional course materials over the entire program. Tuition is payable in five equal installments over the course of the program, and other payment plan options may be available.
Student Loan
Your financial situation will not impact your admissions decision in any way. Once admitted, you are eligible for a low-interest student loan, covering up to 50% of tuition costs. To receive detailed information about the loan option, email financialaid@minerva.edu.