From a passion for Robotics to a 100% Scholarship for a BSc Robotics Engineering degree at Arizona State University - the #1 university for innovation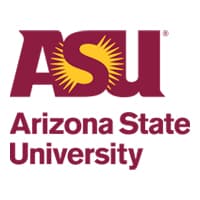 Arizona State University
😊
@aruziev
from
Uzbekistan🇺🇿
💼 Bachelors: Robotics Engineering
⏳ Aug 2023 — May 2027
📍 Phoenix,
US🇺🇸
🗣 English
✅ Student Visa (F1)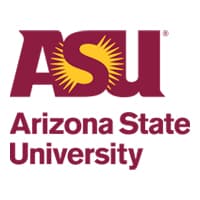 Arizona State University
📍 Phoenix,
US🇺🇸
💰 100% Financial Need Met
🤓 50,000 Students
🌏 17% International
I am Asadbek Ruziev, and I am 17 years old. I was born in Termiz, Surkhandarya region. I am a graduate of secondary school No. 225 in Tashkent. I got admitted to 4 American Universities on a 100% Scholarship basis. I chose the most suitable one among the universities and I will start studying for a Bachelor's degree in Robotics Engineering at Arizona State University in the United States of America in August 2023.
I have been working with robotics since I was 13 years old. I founded the startup team "BESTARORG" and founded several startup projects such as the "Ecobot" startup and robot system, the "Eyemed" mobile application, and the "Adiblar" electronic program translated into 4 languages.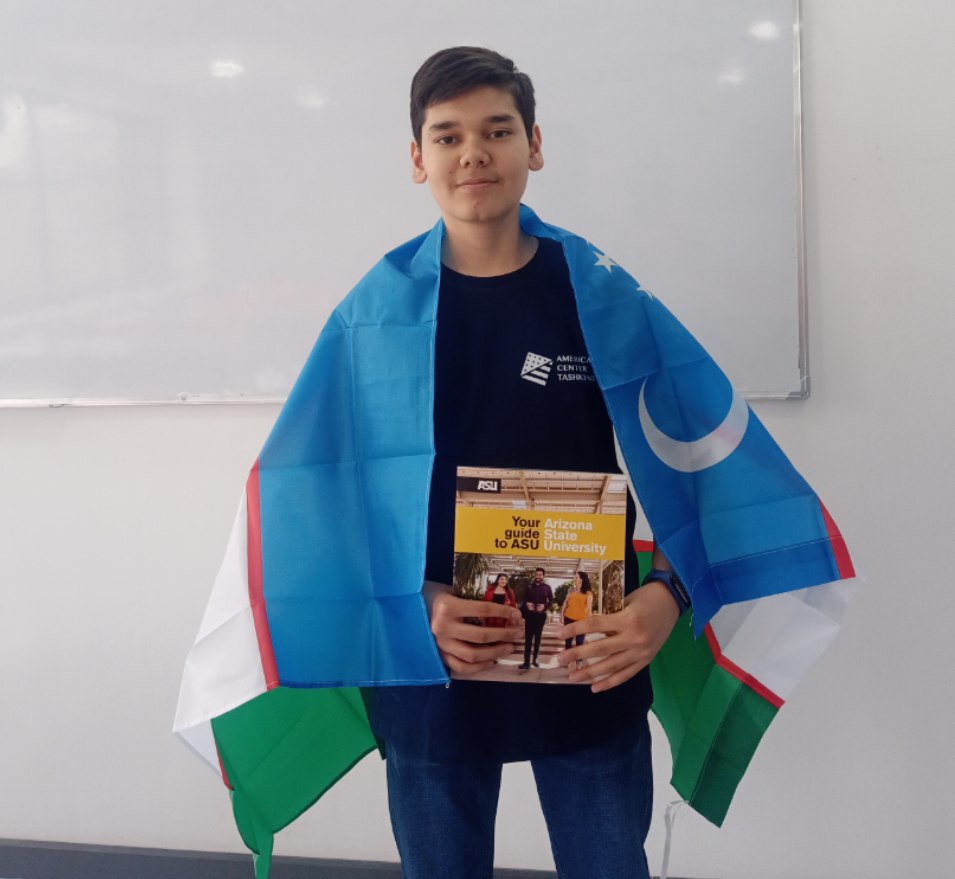 Extracurricular Activities
Founder, CEO, and Chief robotics engineer
BESTARORG.UZ — robotics and IT startup. We made startup projects and robots. We solved issues of 10000 people through innovations, self-driving mini cars, and apps in the Play Store.
Entrepreneurship and innovation research
Institute, Ministry of Innovations of Uzbekistan. Researched engineering technologies. Build modern projects and products using the latest emerging technologies. Won 3000$ in funding for the project.

Founder and Product manager of EYEMED, Adiblar, and BESTARORG - robotics and IT startups
Eyemed app uses artificial intelligence and solves issues of digital well-being. Adiblar is a platform that allows people to access the literature of Navoiy.
Robotics Coach - Secondary school 225
I have taught peers from my school who are interested in robotics and programming. Together with my friends, I have conducted Master classes for participants in online courses.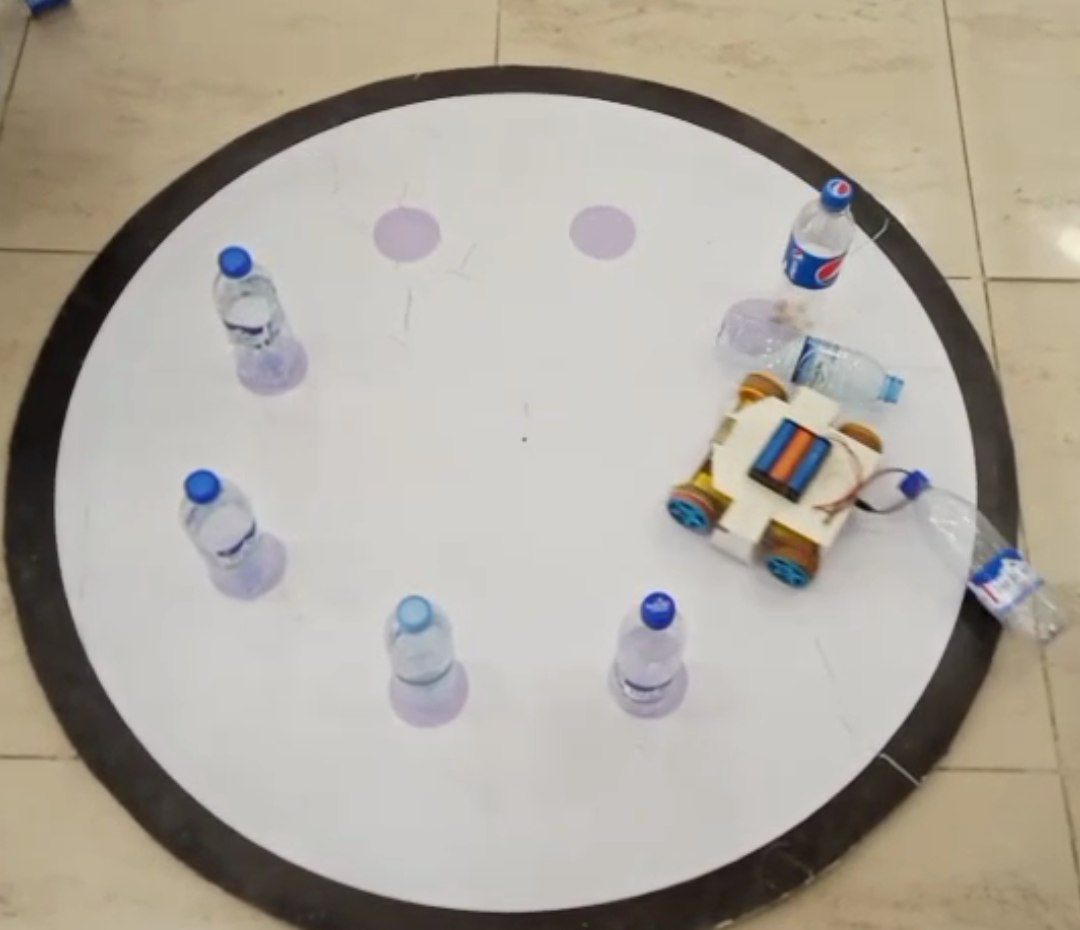 Co-founder and robotics engineer of ECOBOT, BESTARORG - robotics and IT startup
We made an automated machine that is designed to sort different types of waste materials that end up in landfills. It was used in Tashkent.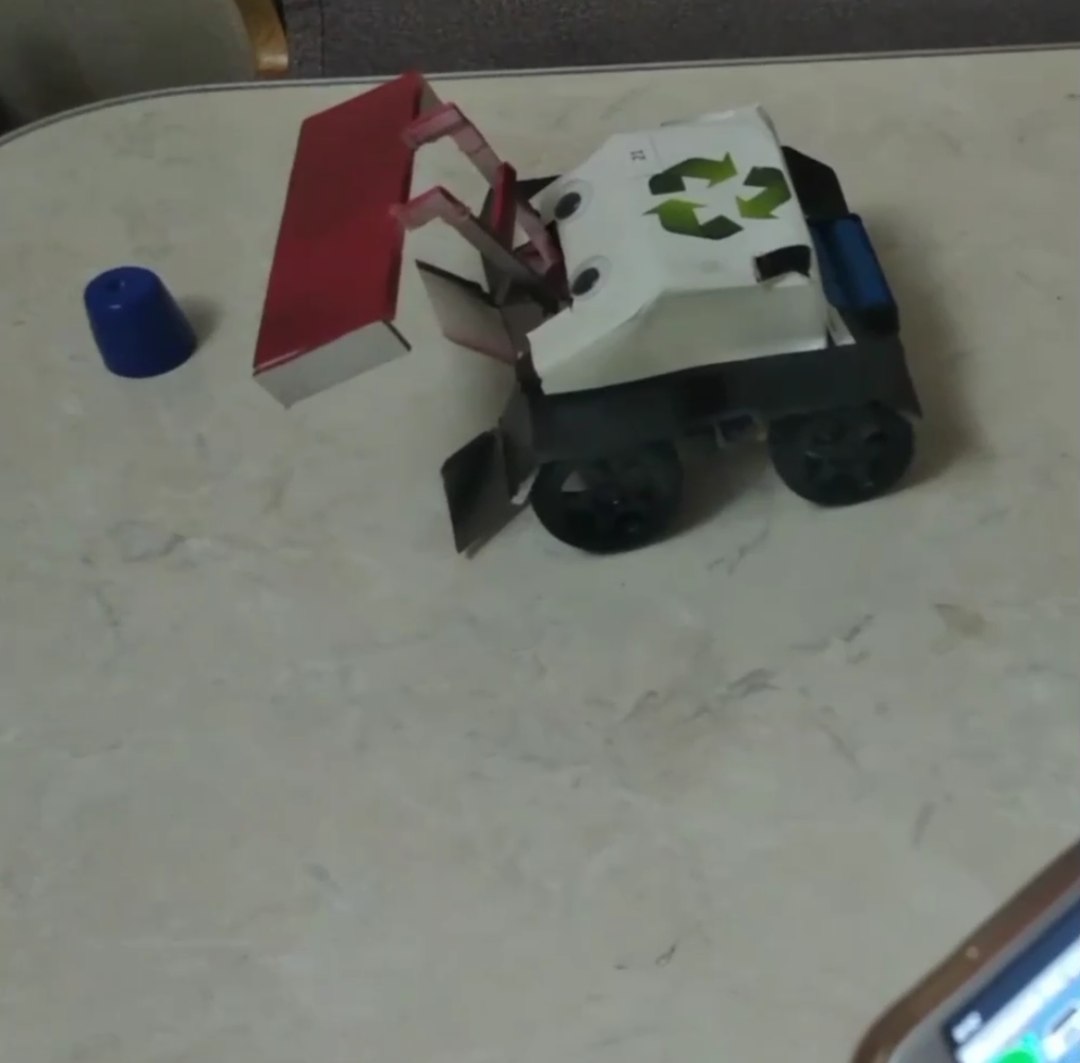 Social media content creator - YouTube (@bestarorg), Telegram(@mr_aruziev)
Helped 1400 people from Uzbekistan to learn robotics for free. Post detailed video lessons about technology, startup, and programming in Arduino in Uzbek.
Press secretary and the president - IT sphere, The Union of the Youth of Uzbekistan
I have promoted educational assessments and participated in a charity organization. As a young leader, I oversee the work of regional leaders.
Active participant - IBRAT Language Camp
I participated in the IBRAT Language Camp in Tashkent and won the competition among 4000 people to attend the camp in Bostonliq. During the camp, I met 250 like-minded individuals and leaders from Uzbekistan.
#1 graduate of engineering online courses - One Million Uzbek coders, Coursera, IT Park Uzbekistan
I completed 15 computer science courses, including Python and frontend technologies, and became the top participant among 1 million Uzbek scholars.
Table Tennis Athlete - Secondary school 225
I worked to keep myself healthy and helped young students to play table tennis. I won the third prize in the school championship.
Honors
I became champion/prize winner in around 20 STEM & robotics Olympiads/contests at the international/national level, some of them are: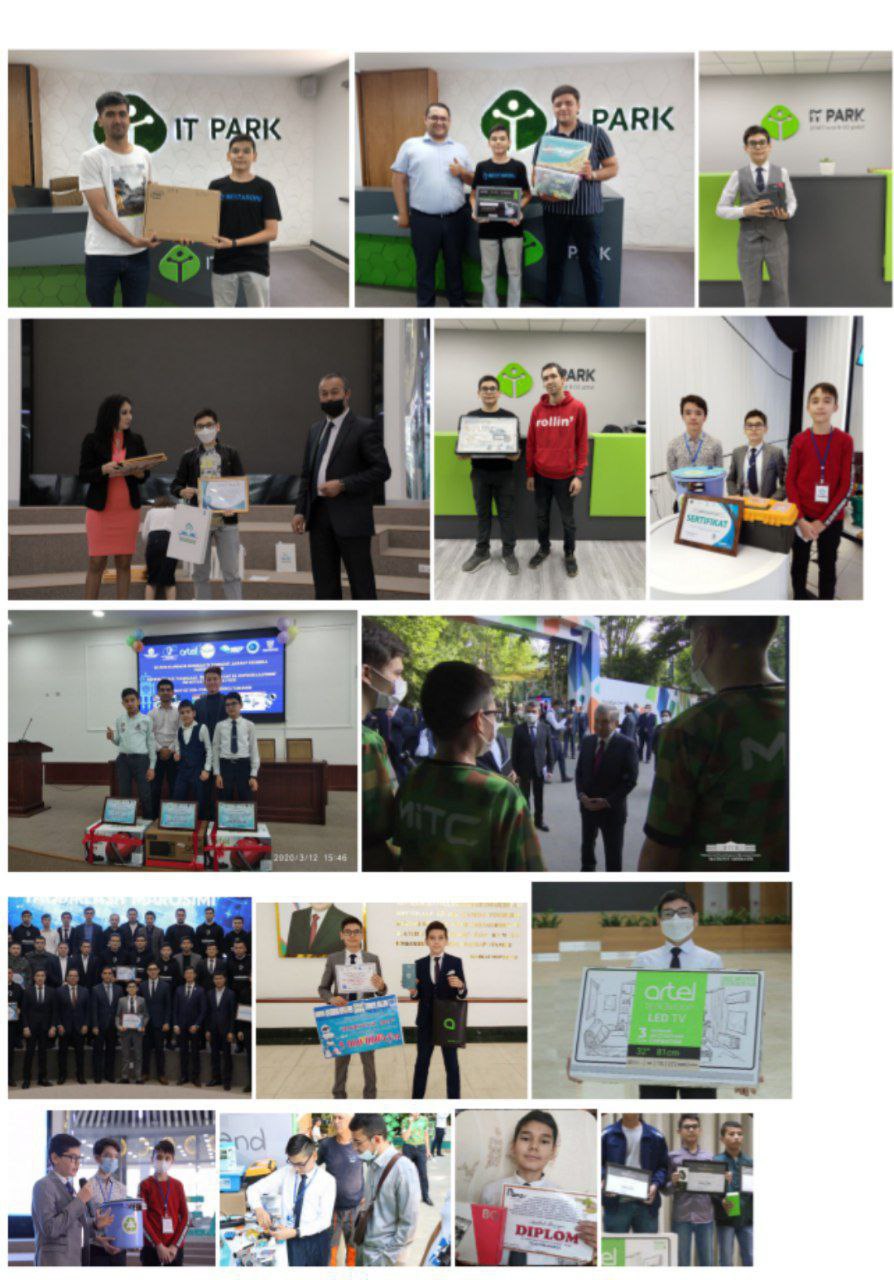 • 1st Place — international IT-Planet Olympiad - Best representing institution's team from Uzbekistan - hosted by Russia.
• Semifinalist — "Unlimited Possibilities" IT-Planet World Olympiad, got a chance for finals in Russia.
• 1st Place champion — Technoways all-Uzbek contest, funding of 3000$ and a laptop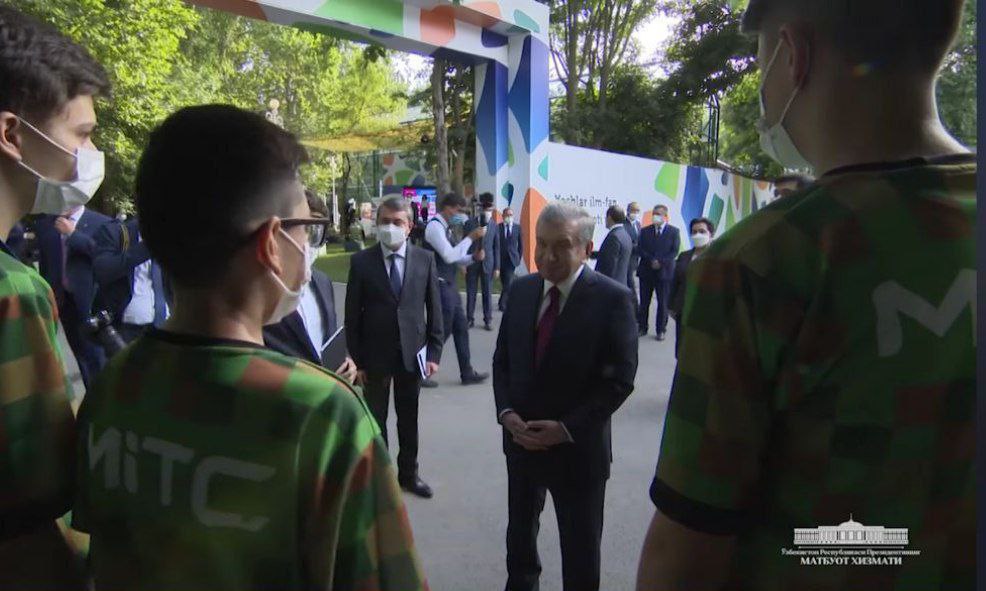 • 3rd Place — International Startup Weekend by USAID - cash prize of 2400$, represented my country in the final
• 1st Place — International Robotics Challenge Uzbekistan stage, 8th place in the world stage - IRC 2019
• 1st Place champion for 2 times — One Million Uzbek Coders contest: received a cash prize of $1000
• 1st Place — all-Uzbek IT Ideathon 2021: won 500$ engineering KIT
• Finalist — International Challenge MeOut hackathon - Germany hosted
• 3 Rd place for 3 times — national Robot Uz 2020, Robot uz 2021 robotics competition
• 3rd Place — Tech of Youth Republic robotics challenge
• 2nd Place — all-Uzbek robotics Youth forum Olympiad
• 3rd Place — Future Skills Uzbekistan IT Olympiad by MITC, IT Park, Youth Union: won Lego Mindstorms EV3 constructor, phone
• 1st Place — Republic IT Ideathon in the Youth Forum of Uzbekistan by IT Park Uzbekistan: won a laptop
• 1st Place — national Intellect olympiad 2020 by Tashkent city gov.: won TV
• 1st Place — 'Al Kharazmi's generation' tech contest by MITC, TUI: won among university students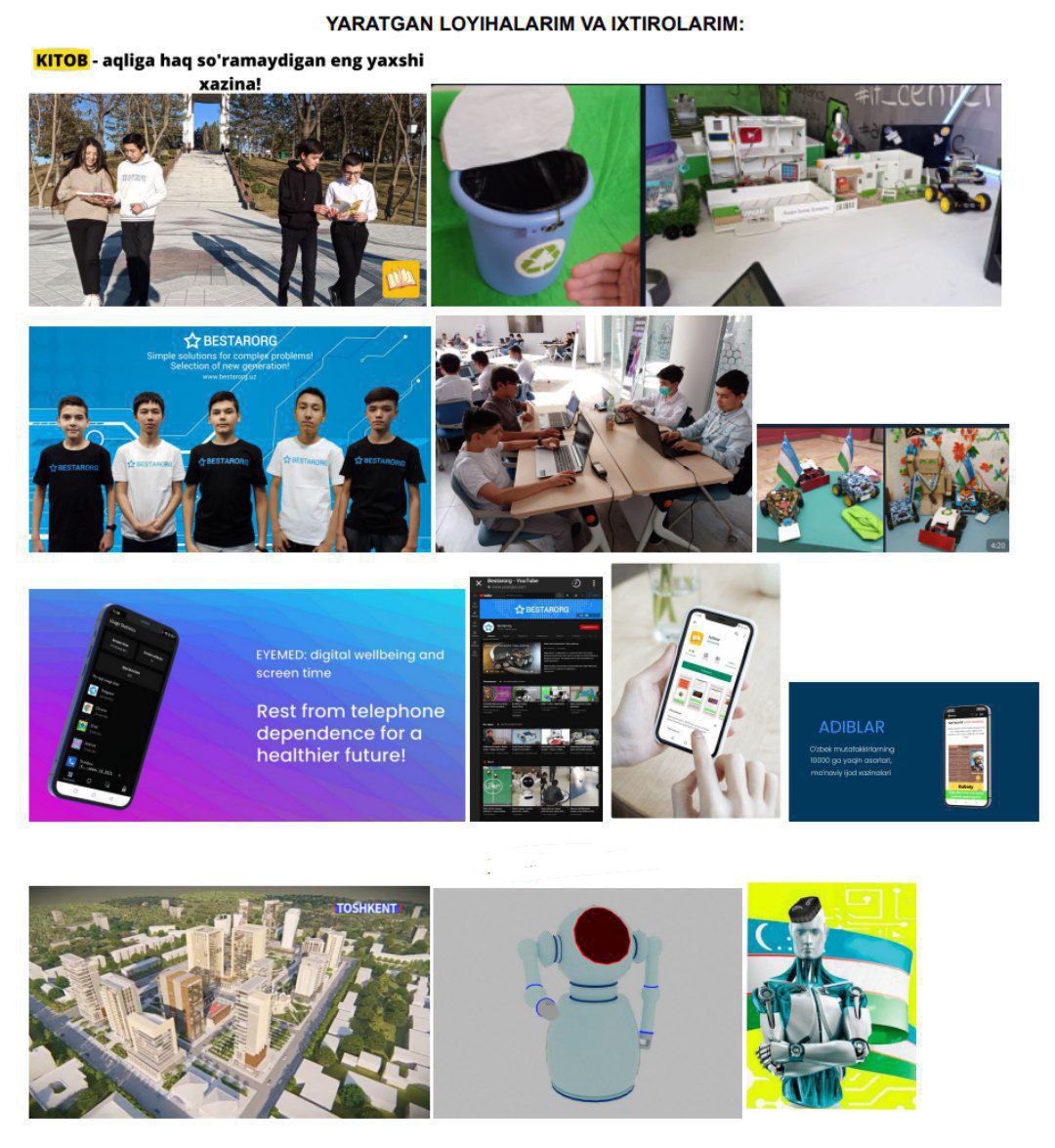 Creating projects in robotics and selling them required investment and funds at the beginning and I created my first projects when I was 13-15 years old. My dad always sponsored me in my projects, but then I received the prize money and various equipment (2 TVs, 2 laptops, 2 vacuum cleaners, 2 phones, a tablet, and other valuable gifts) and robotic equipment worth $11,200 for our team (Arduino, Lego Mindstorms ev3) and a total of $10,000 in prize money from international competitions. These tech and cash prizes were given by The Dubai Future Foundation, IT Park Uzbekistan, Mastercard, USAID, Ministry of Innovation of Uzbekistan.
Our robots such as Ecobot (ecological robot) are currently available and operate at the Ministry of Higher Education and Innovation of Uzbekistan, the Museum of Defense in Tashkent, and other offices.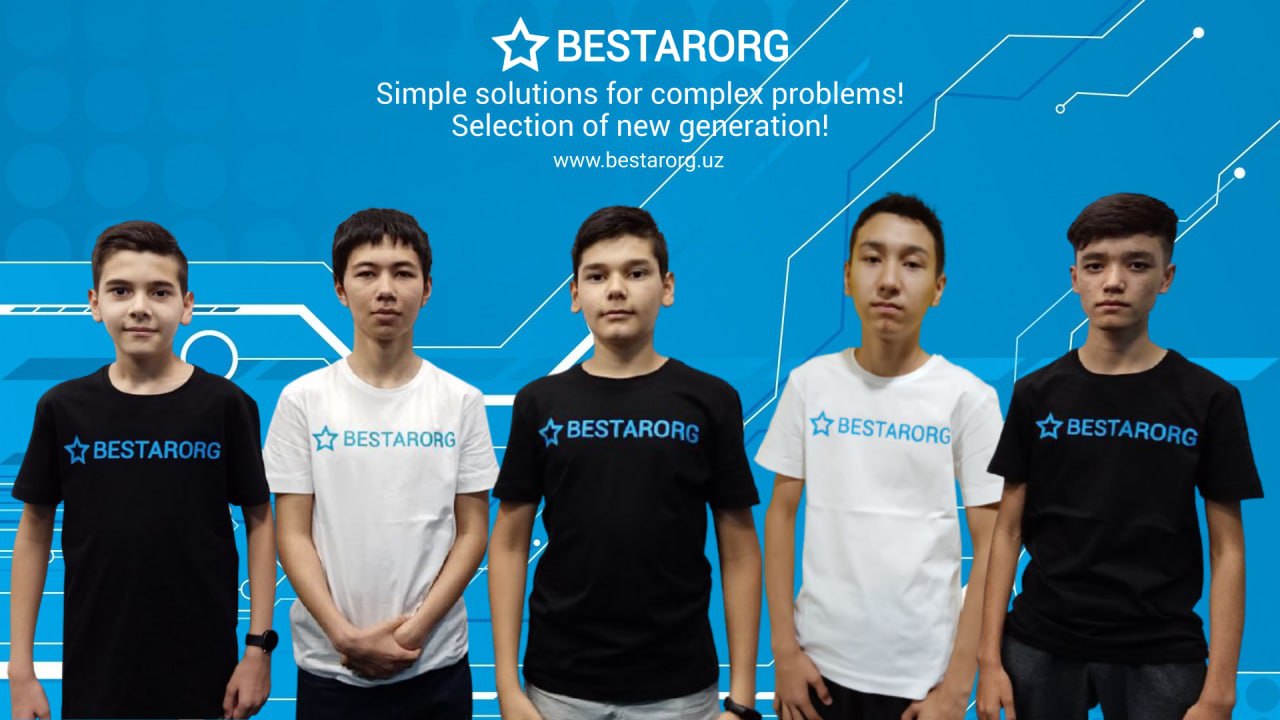 Startup projects
Startup projects: Ecobot robot, EyeMed App, Adiblar app. My teammates and I made 3 startup projects that benefited over 10000 people across the world.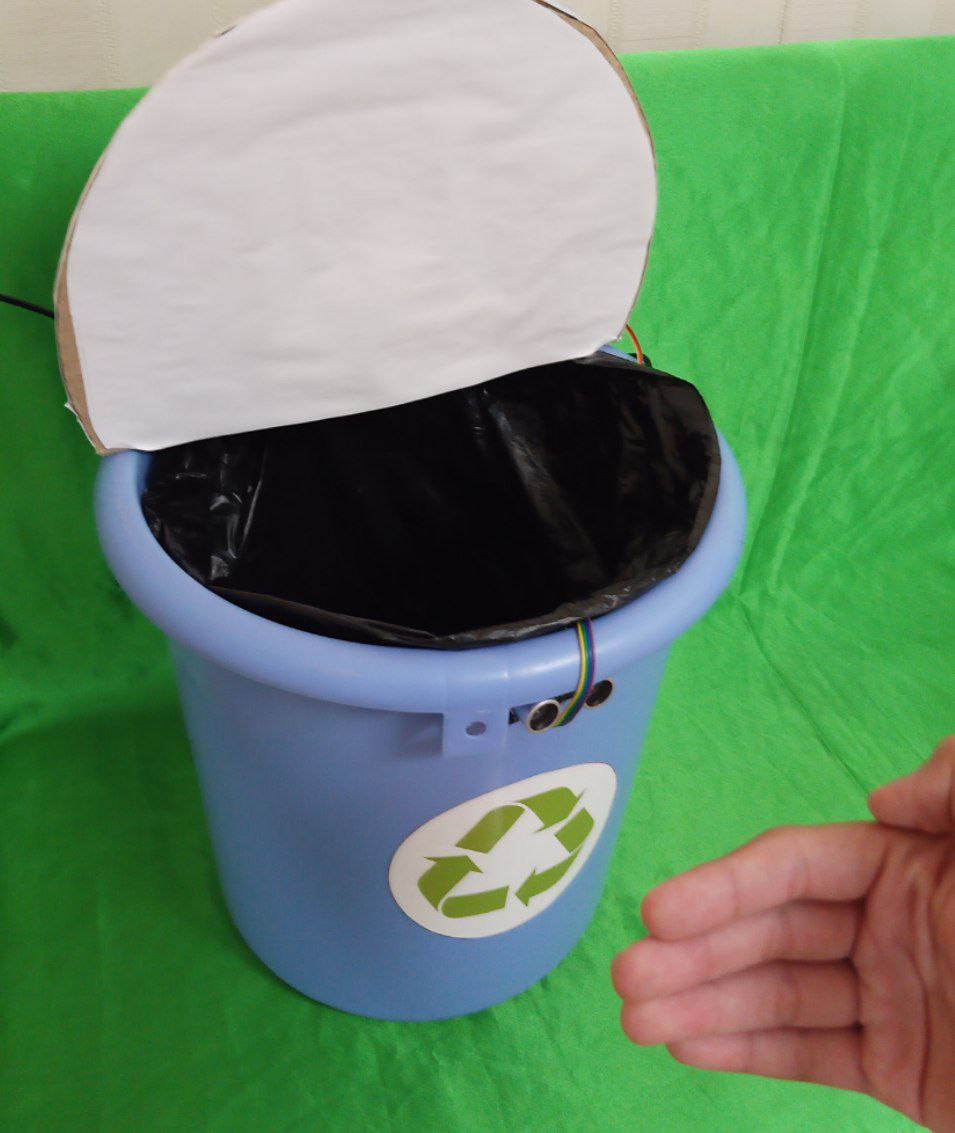 The Ecobot is an agricultural and ecological robot that consists of five interconnected robots.
The ecological robot is specifically designed to address the challenges of agriculture and climate change, and is intended to help monitor, protect, and preserve the environment, as well as address the root causes of climate change.

Smart automation systems are comprehensive systems that bring together various components and technologies to automate various aspects of our daily lives, from agriculture to home and garden management. The primary benefit of smart automation systems is that they make it possible to automate tasks that were once performed manually, saving time, energy, and money, while also reducing the risk of human error.

One of the components of the smart automation system is the Ecobot for agriculture. This component is designed to monitor and protect crops and agricultural lands by collecting data on soil moisture levels, temperature, and other factors that affect plant growth. This information can be used to optimize agricultural practices and increase the efficiency and productivity of farms.

Another component of the smart automation system is the Ecobot for climate change. This component is designed to monitor and protect the environment by collecting data on changes in temperature and atmospheric conditions.

Additionally, there is an ice-breaking robot named Ecobot.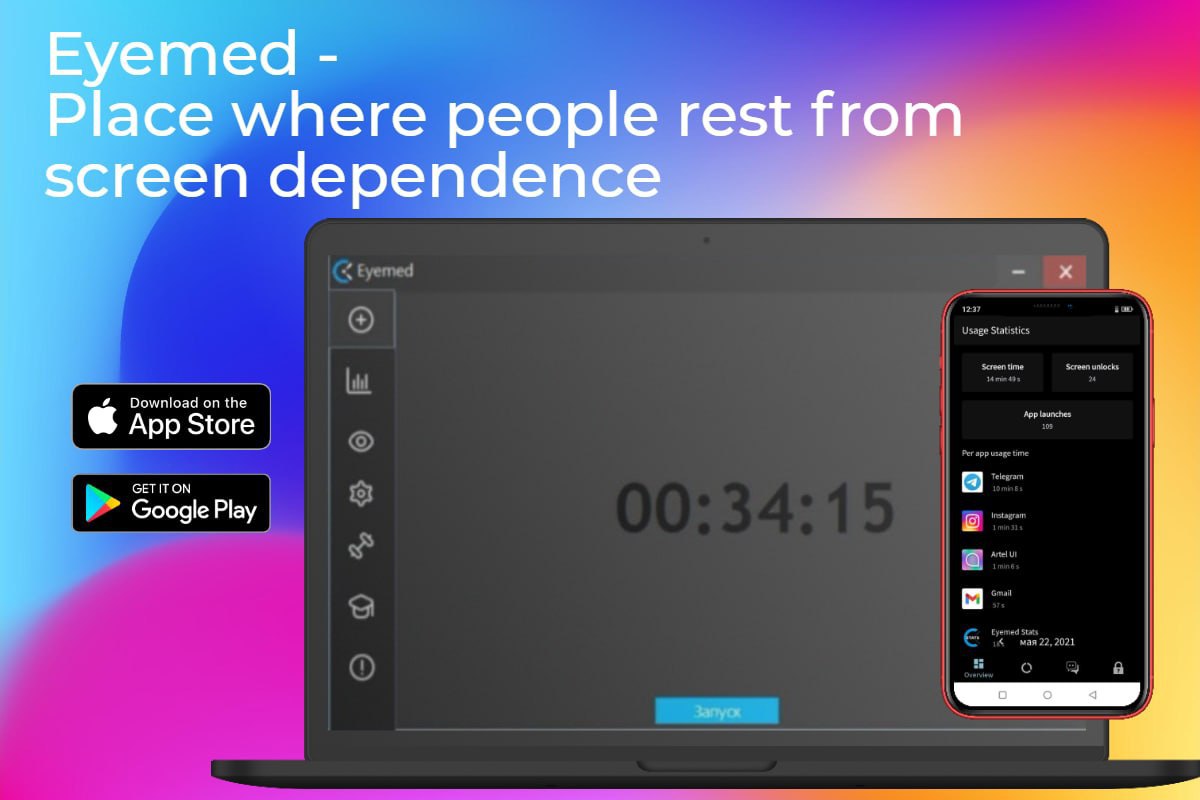 Apart from robotics, I tried to make use of every opportunity given to me. As a researcher in my robotics team, BESTARORG IT and Robotics Startup, we developed the EyeMed app for digital well-being and eye health. Introducing EyeMed: the ultimate app for eye care and digital well-being! If you're tired of eye strain and fatigue from prolonged screen use, EyeMed is here to help. Our app reminds you to take a break every 30 minutes and even blocks your phone to engage you in activities that can help reduce eye strain, from simple gymnastics exercises to locking your phone during breaks. With EyeMed, say goodbye to eye strain and hello to improved vision and overall eye health. Download the app today and experience the difference!
The following are links to Windows OS, and Google Play apps (in Russian)
👉 Web-app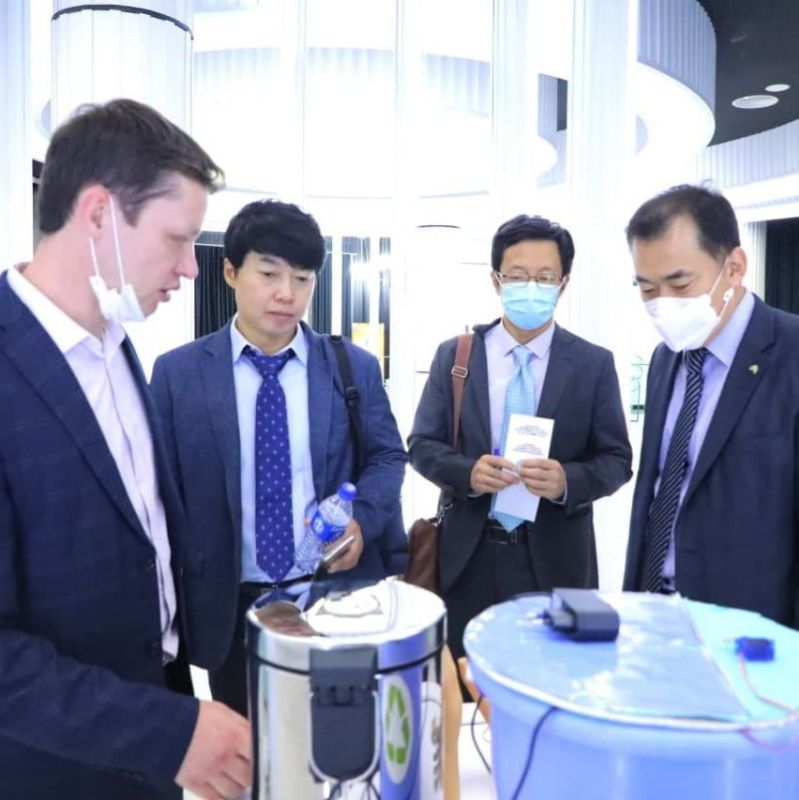 As the CEO and founder of several startups, including Adiblar, Eyemed, Smart Bin, and Waste Sorting Ecobot, I have had the opportunity to work towards enhancing various communities to which I feel connected. One project that has been particularly meaningful to me is Adiblar, a platform that allows people in Uzbekistan to access the literature of Navoiy and Bobur without having to go to a library or spend money. According to a survey conducted by Adiblar, the platform has been accessed by over 5,000 users since its launch, with an average of 120 daily active users. This demonstrates the significant impact that Adiblar has had in increasing access to literature in Uzbekistan.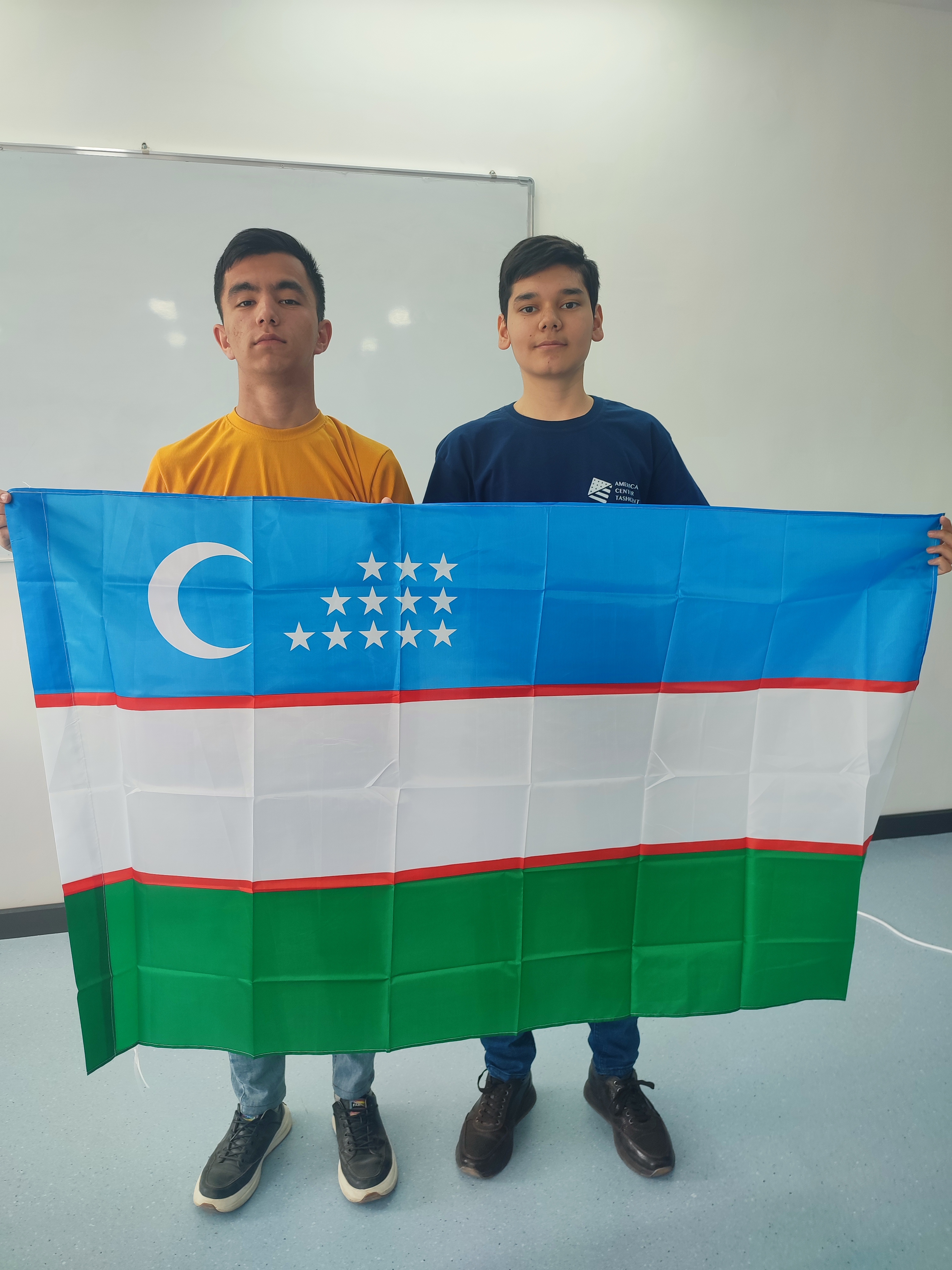 Growing up in Uzbekistan, I was always fascinated by the works of Navoiy and Bobur, two of the country's most renowned poets. However, as a young student, I often struggled to access their literature due to financial constraints and the lack of availability at local libraries.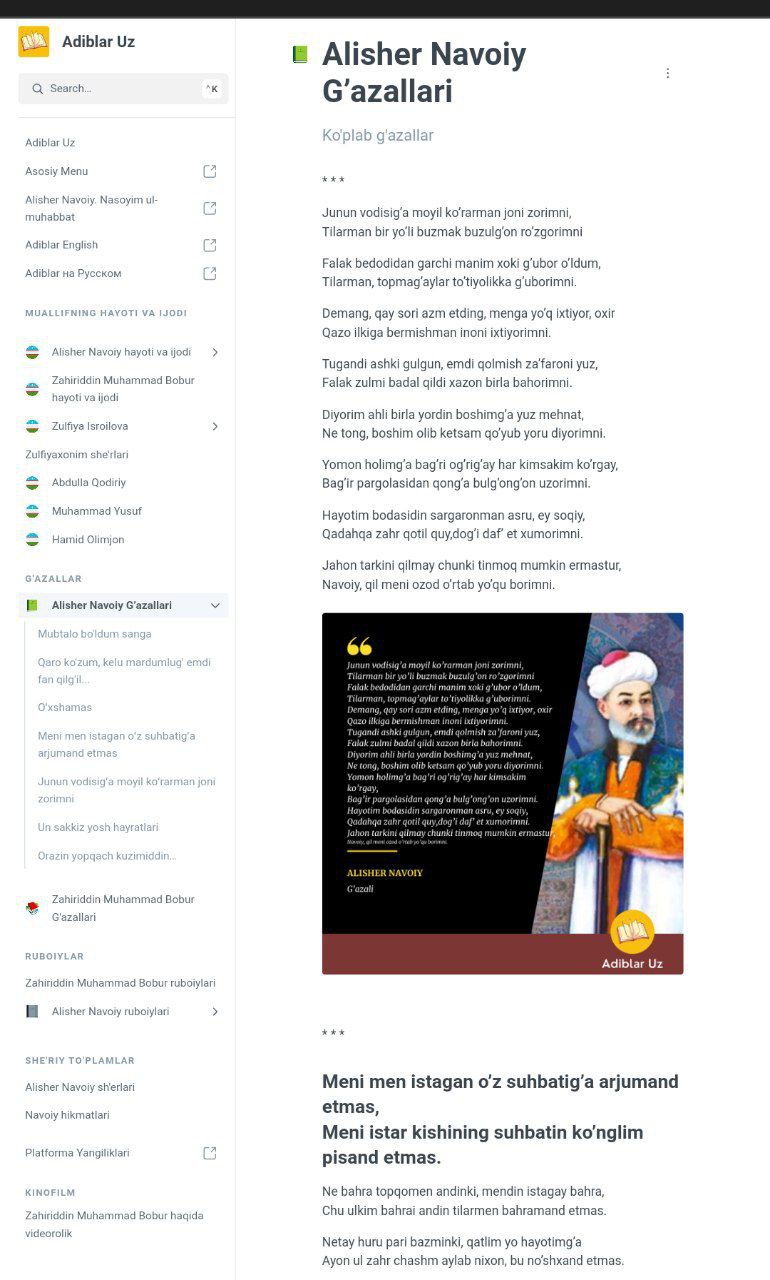 This inspired me to create Adiblar, a platform that makes it easy for people in Uzbekistan to access and read the works of Navoiy and Bobur online. The efforts of Adiblar have been meaningful to me on a personal level, as they have allowed me to give back to my community and make a positive impact on the lives of others. They have also been meaningful in a broader sense, as they have helped to promote literacy and cultural awareness in Uzbek.
Gap Year
The idea to attend an American university came to my mind in December 2021 when I was in high school. In a month, I applied to many universities but could not secure admission with full financial aid. Therefore, I decided to take a gap year and reapply to universities in the USA.
In December 2022, I took the Pearson Academic Test of English (Pearson PTE) and achieved a score of 58/90, which is equivalent to a 6.5 in IELTS. I also took IELTS in October 2022 and received a score of 6.5. Additionally, I took the Duolingo English Test several times and received a score of 130 out of 160.
Universities I have applied to
During my gap year, I applied to Lehigh University Early Decision 1, but Lehigh did not offer me admission as they did not have the financial resources available to meet my financial needs. I also applied to Washington University in St. Louis Early Decision 2 but again was not admitted. I was unable to get admission due to the low financial aid budget for international students when I applied to the University of Miami through Early Decision 2. (I switched my application when it was deferred from Early Action after receiving a decision from WashU.)
I got admitted to 4 American universities on full 100% scholarships. Universities I got admitted are globally ranked among TOP #156 and TOP #15 partnered universities worldwide:
• Arizona State University (#1 for innovations in the USA, World Rank #156)
• Bard College New York(USA liberal arts rank #76)
• Illinois Wesleyan University (top #70 USA liberal arts university)
• Vin University Vietnam (America's IVY League World Rank Top-15: UPenn and Cornell partner university)
Scholarships
Full need-met scholarship at Vin University in Vietnam
In the summer of 2022, I was admitted to Vin University in Vietnam, which has a partnership and background with Ivy League universities in the USA, such as Cornell University and the University of Pennsylvania (UPenn). The interdisciplinary engineering and medicine program at VinUni was established in collaboration with Cornell and Penn, ranking among the top 15 globally. I also received almost full scholarships that covered 100% of my demonstrated financial need for all 4 years at Vin University, with a contribution of about 5-6K annually for other fees. As a student at Vin University, I am eligible to study and receive my diploma through the [3+2] Cornell-VinUniversity or UPenn-VinUniversity Accelerated Degree, M.S. Degree Program in Systems/Mechanical Engineering. It is worth noting that Tesla's CEO, Elon Musk, also received his bachelor's diploma from the University of Pennsylvania.
Full-ride Scholarship at Arizona State University
I received acceptance and 100% financial aid from the El Yurt Umidi Foundation, which covers the full cost of attendance, housing, meals, round trip, and stipend for my education at Arizona State University. ASU is ranked #1 for innovation in the USA. I will be starting my pursuit of a Bachelor of Science degree in Robotics Engineering at ASU in August 2023.
Full tuition scholarship at Bard College
In November 2022, I was accepted to Bard College immediately after they reviewed my application for admission. Additionally, I received a 4-year scholarship that covers the full 100% cost of tuition and fees.
Full tuition scholarship at Illinois Wesleyan University
In February 2023, I was admitted to Illinois Wesleyan University with a scholarship that covers almost the entire cost of tuition fees for a 4-year bachelor's degree in Computer Science and Physics. The overall scholarship value is significant.
Thank you
EducationUSA Advising Center and the American Center Tashkent for their assistance in helping me choose the right university and path free of charge. I was excited to meet with representatives of the universities I had applied to because I had only spoken with them via email before.
"My education is not just for myself, but also for the betterment of my community and country. My dream of continuing to build a better future for Uzbekistan through technology and innovation is truly inspiring, and we do not doubt that we will make a significant impact with our skills and knowledge. Code By Code we are building the future for Uzbekistan!"
---
---