😼
@mediatrix13
from
Uzbekistan🇺🇿
💼 Product Designer
⏳ Aug 2020 — Present
📍 New York City,
US🇺🇸
🗣 English
✅ O-1 Visa
@mediatrix13 is a Product Designer at a New York-based legal tech startup, which she joined after 3 years with The New York Times. The job of a Product Designer includes UX/UI design, copy-writing, user research, architecture design, and strategic product thinking. In this article, @mediatrix shares her personal experience of interviewing for a job in the field of product design, getting an O-1 visa, and lessons for all designers out there!
How I was discovered by the startup
I wasn't actively looking for a job, but at one point I got a message on LinkedIn from someone who was the Director of Design at a startup that promised to revolutionize the market of legal research. He spoke pretty passionately about the company and its noble mission to bring a powerful, affordable, and well-designed legal research solution to the market.
One thing I really appreciated was that they were willing to consider me as a candidate, despite my immigrant status. At that time my student visa was expiring and my ability to stay in the country and work depended on getting a new visa. The team expressed unconditional interest in working with me and would even let me work from Uzbekistan if my new visa didn't come through. This was a pretty refreshing experience. I've had times when I applied for a job and then wasn't even considered in the application process because of my immigrant status. In larger companies, this sort of personal approach tends to be harder to find.
Interview process
A solid portfolio and work experience are what got me into the door of the startup.
Here I want to offer a tip for beginning designers. You do not need a ton of actual work experience to put together a quality design portfolio. You can do your own projects, document them beautifully, and let them speak for your communication, design, and user research skills as well as any internship or job would. As an example of a self-started project, I'll share this redesign I've included in my portfolio when I was a student and I didn't have a lot of previous work experience.
After my portfolio was reviewed and we had an initial phone screen conversation, I was invited into the office to present one of my projects in-depth and do a whiteboard design challenge.
Part 1: Project presentation
For the project presentation, I was asked to give the context of the project, the problem that the project was supposed to solve, what success meant, and what the KPI (key performance indicator) was.
To tell a good story about a project is a project in itself. When faced with this sort of challenge, I try to keep my deck simple, logical, and, of course, persuasive. I try to make my slides informative but concise. When planning and putting together my presentation, I step into the shoes of my audience that knows nothing about the project I'm talking about. To make the story accessible and powerful, I keep simplifying it until it becomes just that.
I worked on my presentation quite a bit, I picked one of the more straightforward and good-looking projects. I explained the problem we were aiming to solve: increase newsletter subscriptions among the new NYT subscribers. I presented the screens in the previous newsletter sign-up flow that I was supposed to redesign and pointed out, piece by piece, which parts of the experience could be improved and how. Then I showed my explorations - several different design solutions, how I picked from them and why. After that, I described the user-testing stage of the project, what interesting and surprising insights I learned, and how I've used that feedback to improve my designs. Finally, I showed a scrappy screenshot from a spreadsheet that showed a whopping %180 increase in newsletter sign-ups that happened as a result of my redesign. That part of the interview went really well.
Side-note here: the project that you present at an interview, does not necessarily have to be a first-time success. Showing that you're able to design a solution, test it, and learn how to make it better, is an excellent story too. In the industry world, you'll be expected to do just that.
Part 2: Whiteboard challenge
The second part of the interview was an hour-long whiteboard challenge. Here I was given a real product problem that the team in the startup was facing, and I was asked to walk through my steps of approaching this problem. Because the problem was about a legal tech product and I knew close to nothing about law, I had to ask a lot of questions before I started to get any sense of what I was dealing with.
I try to follow these steps in interview challenges:
Spend time understanding the problem - ask the right questions

Talk about my thinking process out loud, to help my interviewers understand how I'm approaching the problem

Consult my interviewers and try to engage them in the problem-solving process with me

Propose at least one solution, ideally - several

Visualize my solutions as a user flow, where there's a beginning and an end

Discuss the advantages and disadvantages of each one
I came up with pretty simple-looking screens for this challenge. My personal impression was that I didn't do so well, but they gave me an offer later that day.
What I do now
Currently, I am on the Growth team that's working on getting new paying customers. My latest project was designing a checkout experience including the quote details that were discussed between the customer and a sales person. I do all my design work in Figma.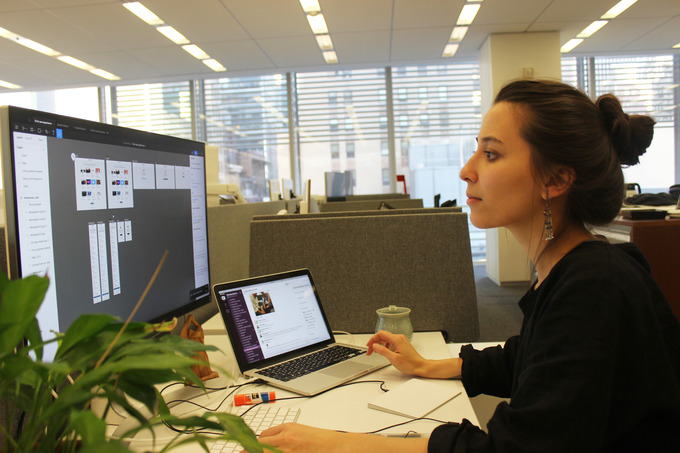 Diversity and culture in the company
I like the culture at my current company a lot. It's a smaller group of people who're smart, hard-working, passionate, and down-to-earth. Things feel more personal here than in a bigger company.
My team is also pretty diverse. For instance, my manager is Turkish. And one of the designers on my team is a first-generation Korean. Having a team like that helps me feel like I belong there.
Switching to part-time
While working full-time, I spent two hours commuting to the office and back, on top of the 8 hours of work, every weekday. I was happy with this kind of life fresh out of school because I was going to take any deal that would keep me in the country, and this one didn't seem so bad. I also didn't have a choice, but to work in the field that I studied, as long as I was on my student visa. About 2 years into living this dream NYC  life, I started feeling burnt out and depressed. I felt like too much of my energy was being consumed by my job, and my job was to support someone else's business, that I didn't really care that much about. That felt weird and pointless.
Once the dust of this realization settled, I started thinking about what exactly I can change in my life to take better care of myself and what truly interests me. As soon as I had the opportunity, I switched to working 3 days a week to free up some space for my personal work and exploration. It's been a great change for me so far.
Salary in New York
In the US, employers that are able to provide competitive compensation, will try to at least match, or better - beat your previous salary. While I was in college, I got an internship with Microsoft that paid pretty well. So when I was negotiating about my salary with The New York Times, they gave me an amount that approximately matched my internship salary. That ended up being $90,000 as an annual salary before tax reductions. With bonuses and allowances, over 3 years my salary increased to ~$100,000.
The startup originally offered me $125,000. Sometime later, I was recruiting and interviewing designers for a new opening and in that process, I found out that the salary range for a Senior Product Designer (which was my title at the time) was from $125,000 to $170,000. I realized that my salary was at the lower end, and after talking with my manager, they raised it to $150,000.
I'm now back to making $90,000 as a part-time employee.
About O-1 Visa
When you graduate from a STEM field at a US university, you are given 2 years (in addition to the one year that everyone gets) to get some work experience in the country. It's called Optional Practical Training (OPT). If your company is large and has legal resources to apply for a work visa for you (H1B), then it buys you some time.
The New York Times applied for my H1B visa for 3 years in a row with no luck, since H1B is a lottery-based visa system. At the end of the third year, I had to either leave the country or come up with another solution. Around that time I learned about the O-1 visa. I met a girl who went through the process and got it, so I went to the lawyers she worked with and paid a total of about $5-6k for legal and immigration fees. It took me about a year to gather all the documents I needed to submit to prove that I'm a "creative of extraordinary ability". I was working on putting together a portfolio, collecting references, and various proof that my designs are amazing and have been experienced by many many users. This experience was very exhausting and bizarre. I wouldn't have the patience to do it if I didn't meet my husband around that time. I really didn't want to leave the country because I just met him.
Thankfully, I got my O-1 visa on the first try. Before it expired, I got married and got my Green Card through that.
Cons of working at a startup
In general, I am very pleased with my transition to a startup, but a couple of cons are worth mentioning. First, large companies have more resources and a more clear distribution of roles. Another thing that I liked about NYT is that there was always a person who could take care of research and interviews with users. At my current job, I not only do design, but I also need to talk to lawyers, which is not always easy. On the other hand, if you enjoy jumping between several different work roles, the startup life is for you.
---
---