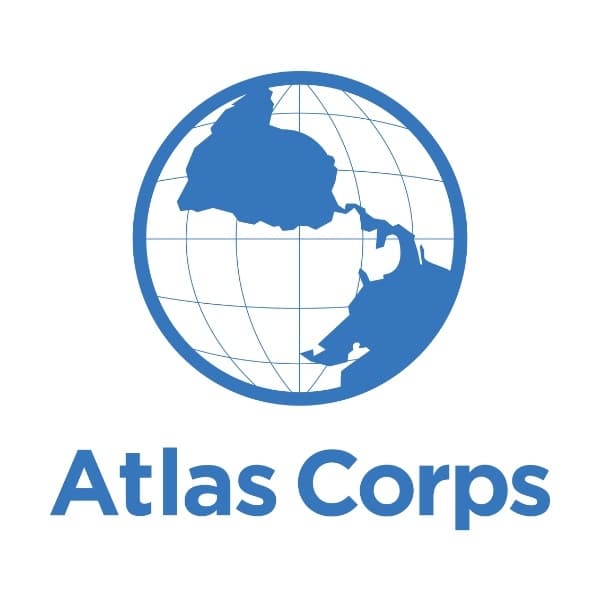 Atlas Corps
👩
@anastasia.zelen
from
Russia🇷🇺
💼 Fellow, Generation by McKinsey
⏳ Oct 2022 — Oct 2023
📍 Washington,
US🇺🇸
🗣 English
✅ Remote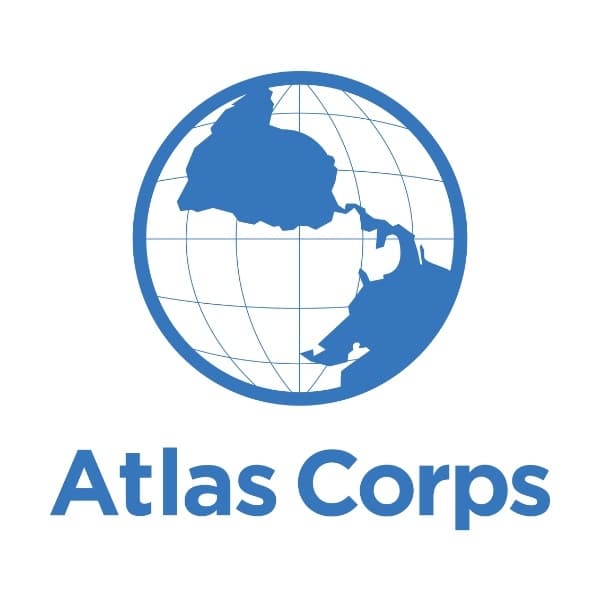 What is Atlas Corps
Atlas Corps is a non-profit organization that connects social change leaders from around the world through a fellowship program. Fellows are placed at host organizations in the United States for a year of professional development and networking. Atlas Corps is often referred to as an internship, but in reality, it is a fellowship program. It differs from an internship in that it seeks professionals with at least three years of work experience in their field. The program is designed for those working in the social sector, non-profit organizations, or private sector. It also offers opportunities for leadership development and introduces you to the Atlas Corps community of global social change leaders.
There are three Atlas Corps Fellow programs and one virtual - Atlas Corps Virtual Leadership Institute. I am participating in the Fully Remote Fellowship program serving at Generation: You Employed (pilot program). The main one is the Fellowship when you serve for the Host Organization for 12 months in the United States. There is also a Blended program, where participants work remotely in their country for several months and then spend the remaining time in the United States. Finally, the Virtual Leadership Institute is a virtual program, an 8-month online leadership learning program for global social change leaders.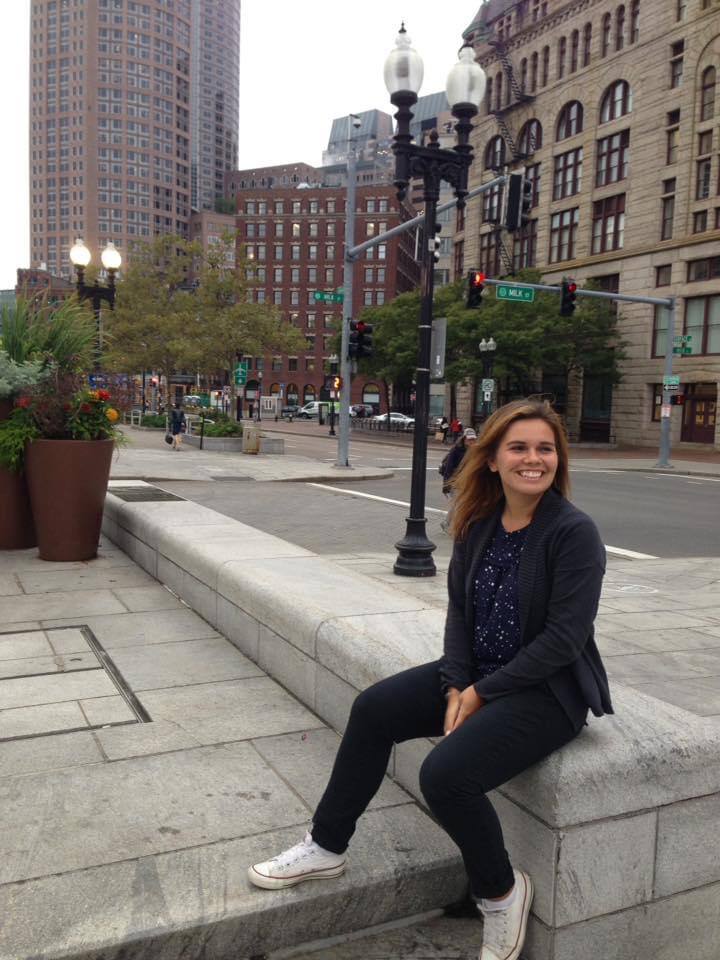 Eligibility & Requirements
Basic Requirements:
Bachelor's degree or higher, ideally a Master's degree, but if you don't have it, it's not a problem

English proficiency

Age 22-35 years old

At least three years of work experience in your field

No green card or US permanent residency
If you have experience working in the non-profit or private sector, it should definitely be reflected on your resume. Ideally, if you've already worked in international companies, that would be a big plus, but it's not mandatory. The selection process considers not only the skills but also the mindset of applicants.
Application Process
For details on the application process visit this link: https://atlascorps.org/apply/#process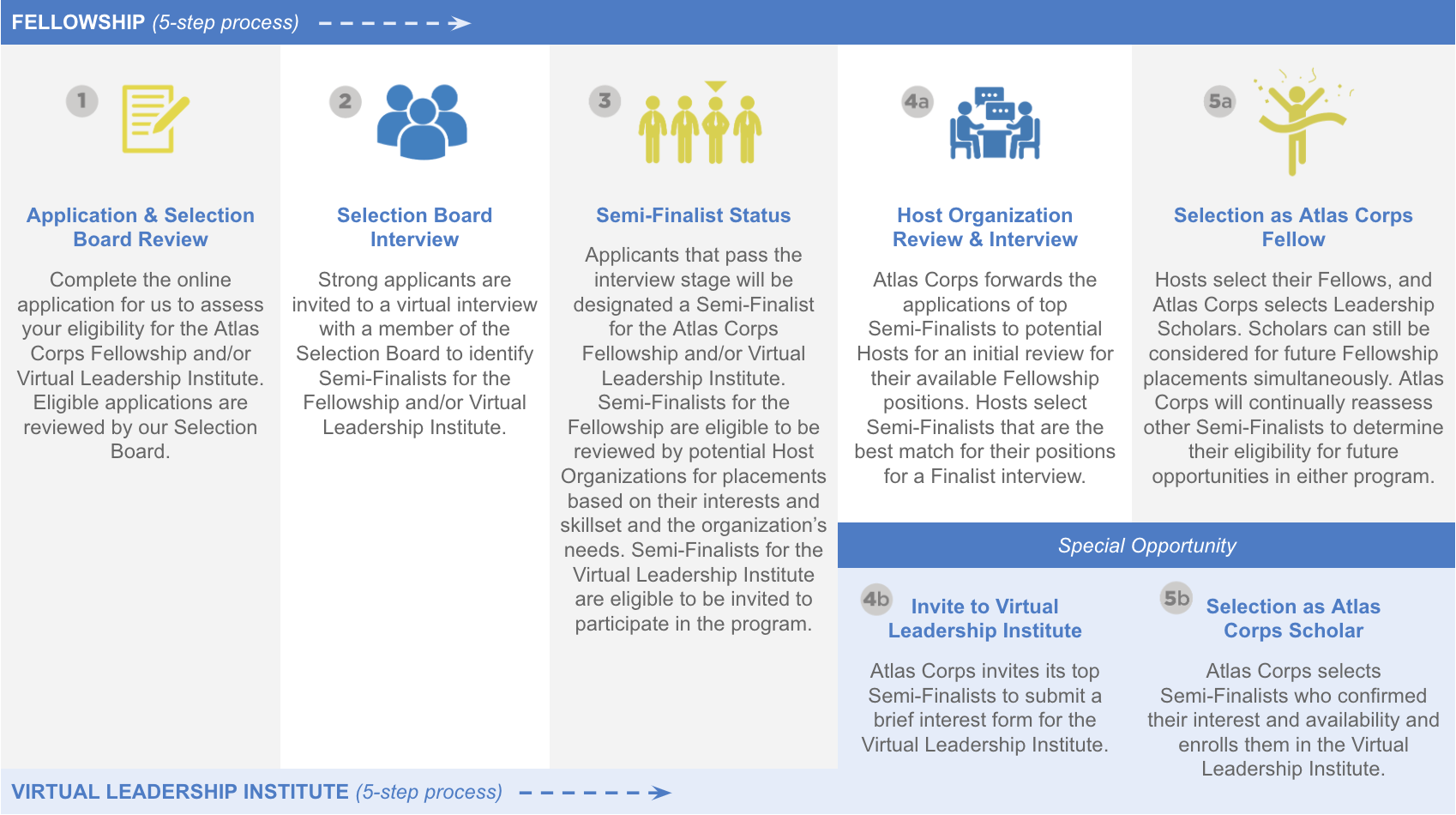 The first step was to fill out the application on the Atlas Corps website. It took me about 6-7 hours because I had to upload all my diplomas, recommendation letters, write a motivational letter, a short biography, indicate my language proficiency level, and answer many questions related to my work experience and the countries I have been to. I had to write why I wanted to become a fellow and how it would help me in my future professional life. If you have articles that you have written, you can attach them as well. Personally, I didn't have many additional documents since I worked in project management, but it didn't hurt my application.
In the next stage, I was invited to a Skype interview with the Atlas Corps staff member. It was an interview where they asked me about my work experience, leadership qualities, and motivation. After that, I became a semi-finalist and got stuck at this stage for a bit. Normally, the wait takes up to six months, but due to current issues in the world, I waited for a year. During this time, I went through Virtual Institute and actively worked on my projects.
After that year, Atlas Corps finally sent me a letter notifying me that I was selected to have an interview with Generation, a non-profit founded by McKinsey. I received more details on my responsibilities, my supervisor, and the skills I would acquire. Everything suited me, and I moved on to the interview stage. There were three of them and a performance task, after which I signed the contract!
Funding
The Fellowship program provides a monthly stipend and funding for flights, visas, and insurance. I had a unique case - I participated in the program fully online while living in Moscow. The fellowship amount depends on your location, and in my case, I received $1620 per month. In the United States, the amount is higher - $2000+ in San Francisco and $1800+ in New York. You can live with this money, but it's better to have some extra for personal expenses.
Important requirement
Atlas Corps has a requirement that program participants must return to their home country for two years after completing the program. However, since I am doing the program remotely, I do not need a J-1 visa, and I was told that I can move to any country I like. Soon, I plan to move to Seattle.
What happens during the Fellowship program
The most important part of the program is the actual work at Generation, where I have to attend all meetings with supervisors both from Atlas and your host organization. By the way, if both you and the organization like how you work, you can extend the program for another six months.
At the beginning of the program, a training plan is created, which must be approved in order to acquire all the necessary skills. We have intensive leadership labs where speakers are invited to share their expertise and discuss various topics on leadership. Every two weeks, I talk to my buddy - a friend from the community - to support each other and ask questions. Also, during the year, it is necessary to write six articles, at least every two months, which is a separate task. In addition, Atlas constantly holds various events, such as webinars, both from Atlas and partners.
Here, a personalized approach is present, which is very important to me. I remember how I turned to my supervisor with a request to alternate small tasks with big ones, as I felt that in the long run, I could lose motivation. My supervisor was so understanding that not only agreed but also asked me to describe my ideal workday and discuss it with her.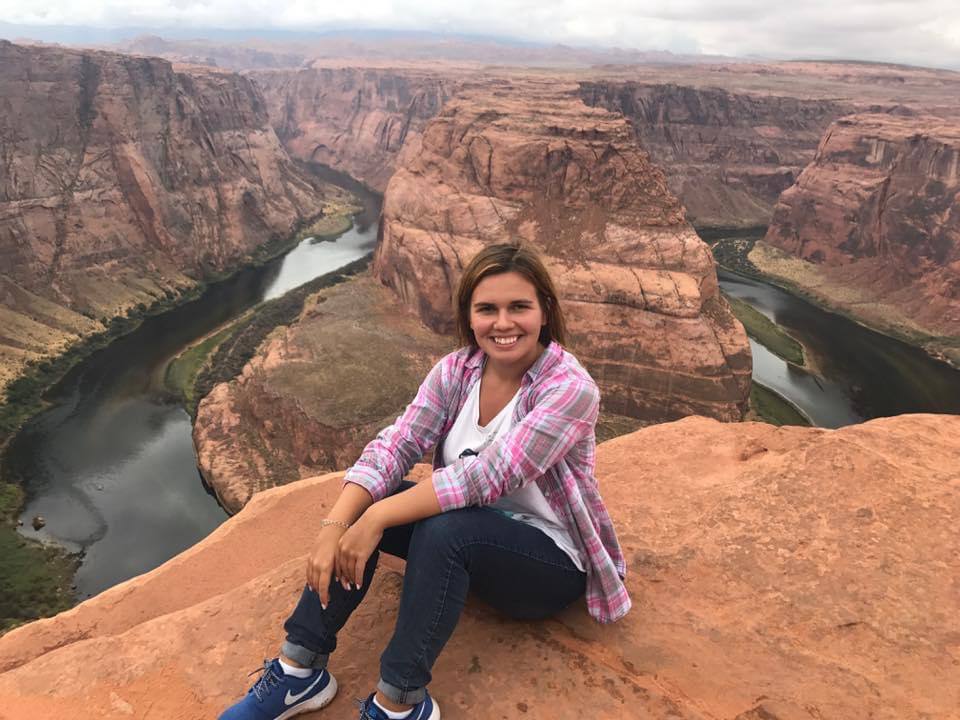 Virtual Program
While waiting for the results from the Fellowship, I also completed the Virtual Leadership Institute program. The program has the same concept, but there is no full immersion in a professional environment since you don't work with a host organization. The focus of the program is to develop your social projects, which was perfect for me since I was working on my own podcast about international programs and giving lectures in cultural centers.
The application process for the program is quite simple: you need to submit an application and record a two-minute video explaining why the chosen social issue is important to you, what project you are developing, and what results you plan to achieve. There are no interviews.
The program lasts for four months and includes workshops and peer coaching groups. At the end of the program, you present a report on your progress. In addition, you have the opportunity to be part of the Atlas community.
Who Atlas Corps is for
Atlas Corps Fellow is an incredible opportunity to gain professional experience, connect with social change leaders from around the world, and make a difference in your field. So if you're passionate about creating positive change in the world, I highly recommend applying for the Atlas Corps Fellowship. The VLI program helped me with the development of my project and overall was a wonderful experience.
---
---