How I got into Columbia University and became a John Jay Scholar with full financial aid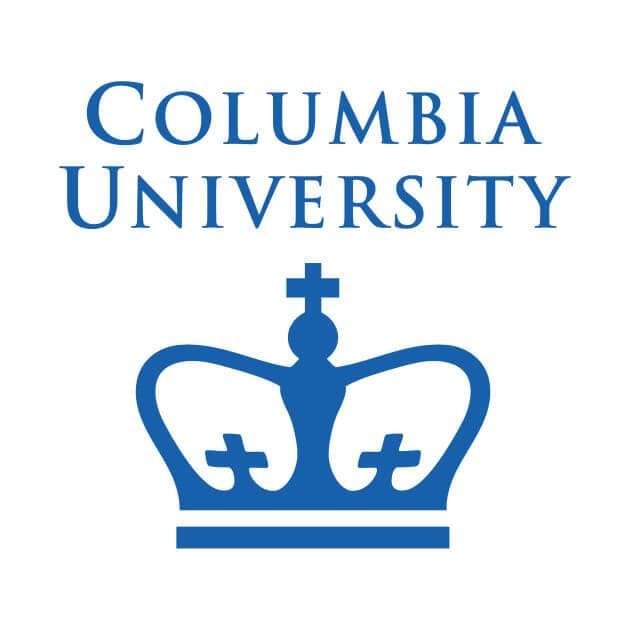 Columbia University
🪞
@parizoda.as
from
Uzbekistan🇺🇿
💼 Bachelor: Political Science
⏳ Aug 2023 — May 2027
📍 New York City,
US🇺🇸
🗣 English
✅ Student Visa (F1)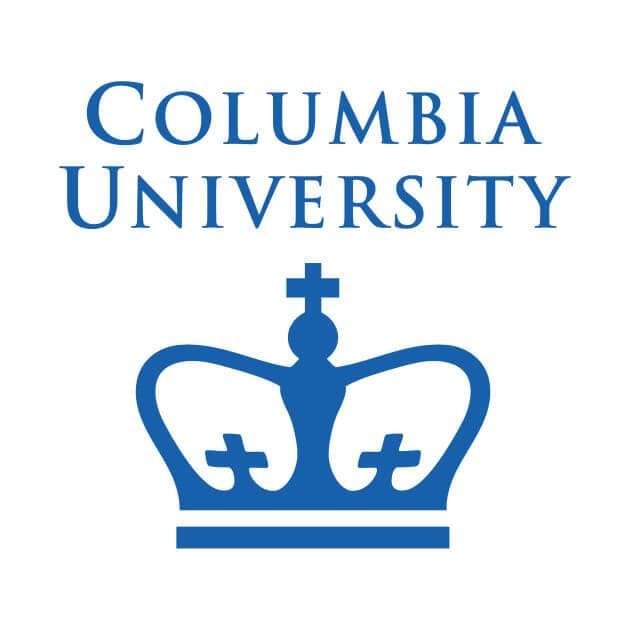 Columbia University
📍 New York City,
US🇺🇸
🗣 English
💰 100% Financial Need Met
🤓 31,000 Students
🌏 35% International
How I decided to study abroad
I attended a public high school in Samarkand, which was once considered the best in the area. Although its reputation has changed somewhat, the school still boasts a diverse student body, including not only Uzbeks and Russians but also Turkish, Kazakh, and other nationalities. The curriculum is mandated by the government, but we were fortunate to have excellent teachers.
My decision to study abroad was largely influenced by my parents, who encouraged me to pursue opportunities in the US or Europe. I have always been interested in becoming a lawyer, inspired by my relatives and uncle who are involved in politics. Growing up in this environment fueled my passion for politics. However, in Uzbekistan, opportunities in this field are limited. As a result, I began searching for universities and colleges specializing in my desired major.
During my search, Columbia University caught my attention. At first, I was unaware of its prestigious Ivy League status or its global reputation as one of the best universities. I was drawn to the campus and its atmosphere. Later, upon discovering its prestigious nature and strong political science program, Columbia became my dream school.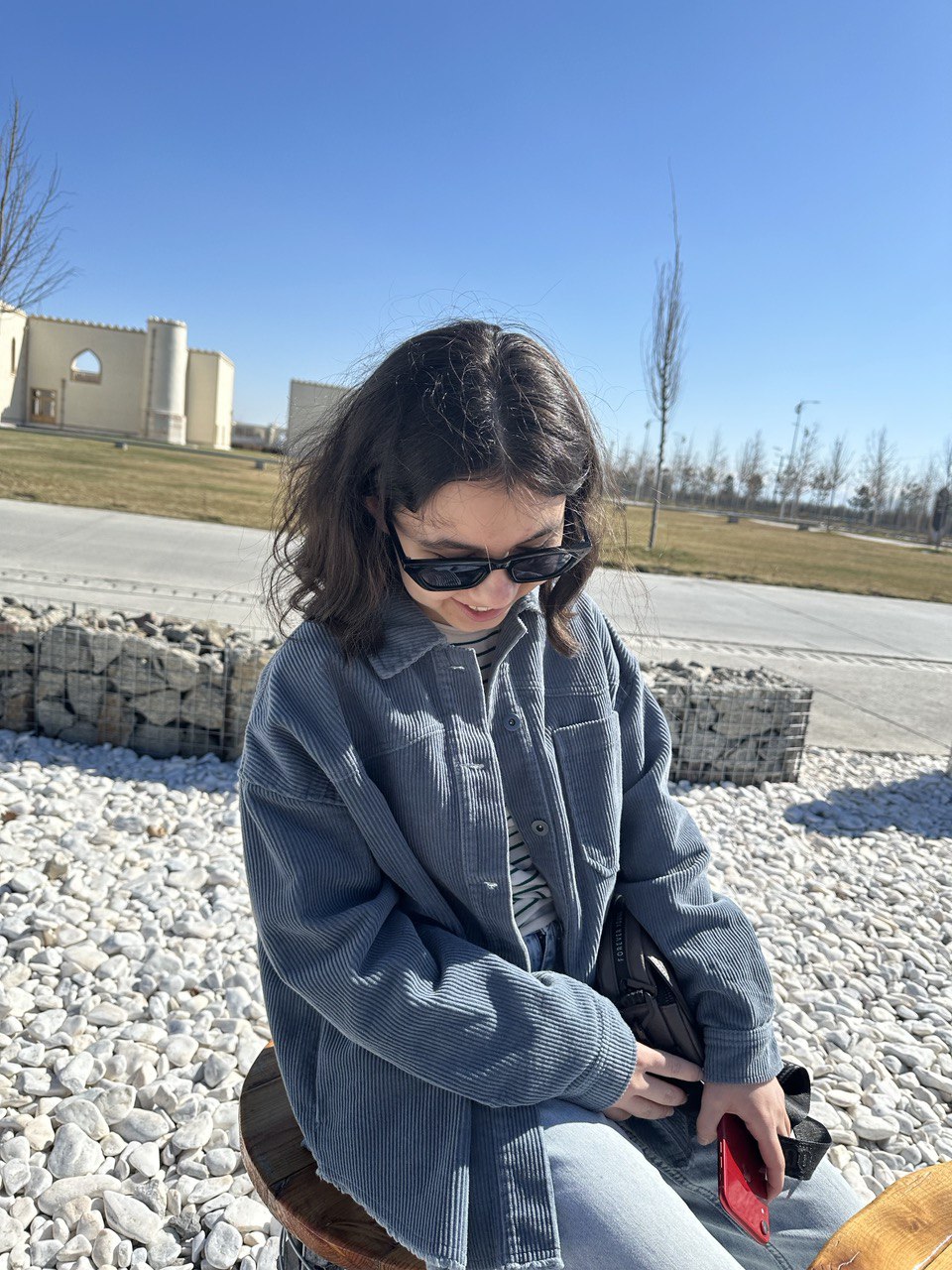 Application results
I applied early decision to Amherst College, but they rejected me, possibly due to not having my SAT scores at the time or because they admit very few students. In fact, they only admitted 10 international students during that early decision round.
During the regular decision round, I applied to 17 colleges, with 15 being top universities and two having higher acceptance rates, around 30-50%. I was admitted to NYUAD, but they didn't offer me a full scholarship. I got very concerned and began to question if there were mistakes in my application or financial aid documents. Eventually, I got into Columbia with a full scholarship.
Interestingly, I was rejected by the two universities with higher acceptance rates, which now seems ridiculous. But I think I know the reason for the rejections: I was too lazy when applying to those universities. I submitted applications through the Common App, but I didn't send them my IELTS, SAT, passport, or any other required documents. I was so careless that I completely forgot to submit those materials.
Scholarship at Columbia
Columbia University is need-aware for international students, which means that if you can't fund your education, your chances of admission may be lower compared to those who can. At the same time, the university states that they meet 100% of demonstrated financial need. So in those cases when they are particularly impressed by a candidate, they will cover all of their financial needs.
In my case, my financial aid document indicates that the majority of my financial aid comes from the John Jay Scholarship, a program to which I was also admitted. I'm unsure about the specific reasons I was admitted to the John Jay Scholars program, as I don't know yet what made me stand out among other applicants. Nevertheless, I'm grateful for the opportunity, and full financial support, which amounts to ~96,000 USD/year.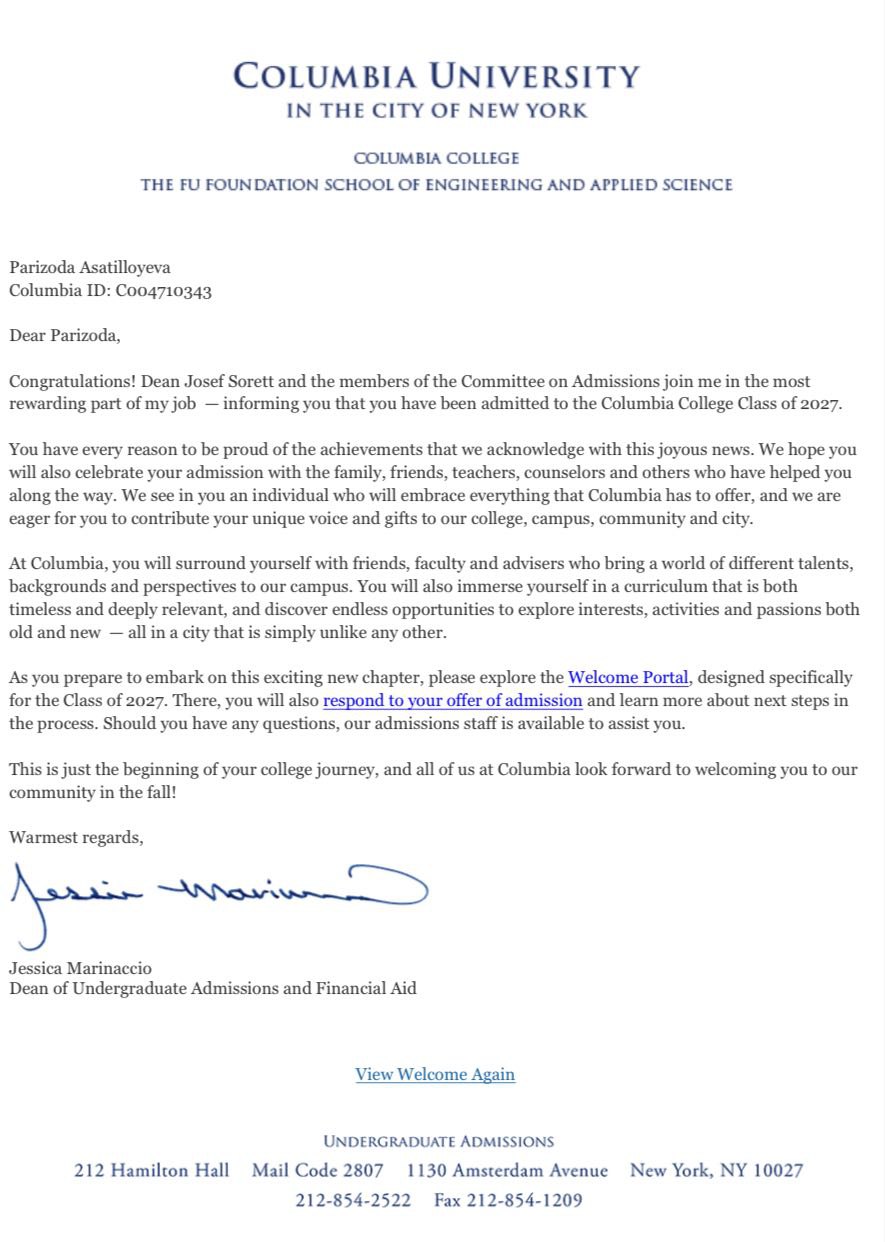 Grades and Test scores
Regarding my grades, I maintained a perfect GPA in public school. As for the SAT, I scored 1500, but it took me three attempts to achieve this. Interestingly, I took the SAT in December 2022, but the results were delayed until January 3rd or 4th. By that time, I had already submitted my application to Columbia without the SAT scores. Upon receiving the results, I was thrilled and promptly sent them to the university. I consider this a huge luck since the scores might not have been released in time. Additionally, my IELTS score is 8.0, though I'm unsure if it's particularly important.
Honors and Extracurriculars
My achievements include numerous awards from my school, such as being nominated three times as the best student and being recognized as a gold medal holder. I also studied at a music and art school for seven years, where I conducted concerts and participated in various contests. In these contests, I won first place and later second place in two national competitions.
In terms of extracurricular activities, the music school was a big one where I studied for nine years. I held the position of head counselor at the student support club, helping students who struggled with music to improve their skills. At school, I was involved in a math club that tackled advanced problems, as I have a strong understanding of math. I scored 800 on SAT math. I volunteered at the 6th International Congress in July, where I served as a leading volunteer. My responsibilities included assisting visiting international scholars in Samarkand with locating books and research papers and providing translation services. I also worked as a lawyer's assistant for two months, which was a significant experience for me, as it aligned with my interest in politics and government. During this time, I studied legal cases and interviewed criminals. Additionally, I participated as an ambassador in the Writerama Project, an international initiative that empowers young girls in Central Asia to explore creative writing and pursue their interests. The project, which originated in Tajikistan, was introduced to Uzbekistan in an effort to support girls who often face suppression in the region. Lastly, I completed an internship at the National Democratic Party, where I assisted deputies in addressing constituent concerns. I participated in conferences and prepared presentations on problem-solving, making this a valuable experience as well.
My Personal Statement
Choosing a topic for my personal essay was challenging due to the numerous possibilities I had in mind. Eventually, I discovered the perfect theme that resonated with my personality and life experiences: language policy in Uzbekistan, particularly in the post-Soviet region. My essay highlighted my struggles as a bilingual person in Samarkand, proficient in Uzbek, Russian, and Tajik languages. This focus allowed me to demonstrate my unique background and the lessons I've learned from engaging in diverse activities.
Tips for writing college essays
One common mistake I made was using overly categorical statements, such as claiming that all people in Uzbekistan want to study abroad. In your personal statement, avoid making such broad generalizations.
You should also be specific rather than general. If you express an interest in politics, for example, dig deeper and explain why and how you became interested in this field. In your personal statement, everything you say should be specified and supported with evidence. This is where extracurricular activities come in handy – they provide examples to back up your assertions about your character and dedication.
For example, if you describe yourself as detail-oriented, you can mention that you gained this skill while assisting a lawyer. Just stating adjectives isn't enough; you should provide evidence through your experiences.
Lastly, the structure of your essay is crucial. You might have a clear idea in your mind, but the structure determines the impression you leave on the reader. It's important to present your thoughts in a logical, chronological order for easy comprehension. When I first wrote my essay, it was disorganized and scattered, making it difficult to understand. However, after editing it numerous times, I was able to create a well-structured piece that showcased my experiences and interests effectively.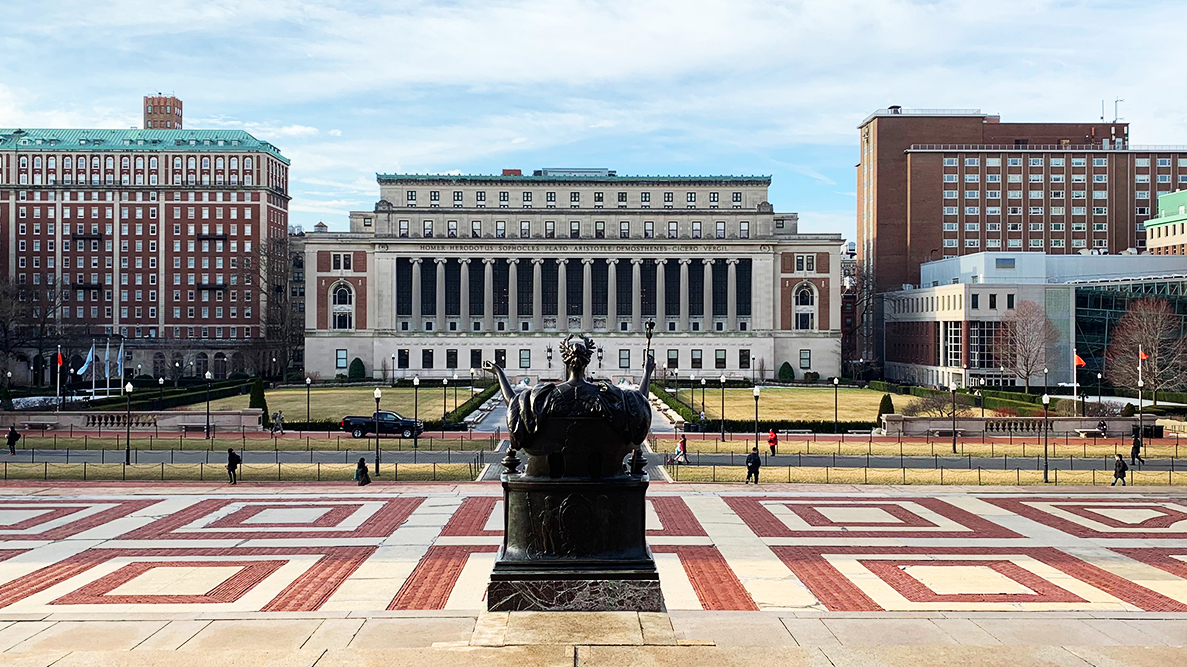 About Freshman Academy
The contribution of Freshman Academy was very significant in my admissions journey. Initially, I joined their SAT club courses as a student and later discovered they also offered admissions courses. I was intrigued by this and applied for their full support program, which I was accepted into.
Throughout the program, they helped me improve my SAT score, build a compelling narrative, and enhance my academic knowledge. They encouraged me to read high-level books, which greatly contributed to my growth. During the application process, I had many ideas for my personal statement, and they guided me in selecting the most relevant topic. While preparing my personal statement, they provided valuable feedback on areas that needed improvement, suggesting what to remove or rewrite.
Importance of time management
The most intensive part of my preparation began in June last year when I started preparing for the SAT. Before that, my schedule was relatively balanced, with school during the day and music classes in the afternoon. However, once I started preparing for the SAT, I realized how challenging it was.
From September to October, my schedule was quite intense, with school in the morning, SAT preparation in the afternoon, and application work in the evening. After taking the SAT in December, I devoted my time to school and applications, working on my personal statement and editing it during the afternoons.
My advice would be to prioritize tasks based on deadlines and importance. However, I must admit that my time management skills were not perfect, as I started my preparation late, which made my schedule more intense than it could have been. If you can avoid procrastinating and prioritize tasks effectively, you will be better positioned for a smoother application process.
Final advice for applicants
Students, whether they are applying to universities or still at the beginning of their journey, should start early in preparing for college applications and career exploration. Begin researching suitable universities, not only Ivy Leagues, and their unique offerings. Engage in extracurricular activities as soon as possible, and build a personal narrative by focusing on your genuine interests.
Three years ago, if I could give myself advice, I would recommend applying for a presidential school to take A-levels, as they can sometimes compensate for the SAT. I would also advise myself to start preparing for the SAT earlier. In addition, pursue the career you truly want, regardless of external pressures, such as living out your parents' dreams.
Draw inspiration and motivation from various sources, including parents, surroundings, and media related to your desired career. Encourage exploration of personal interests and observe your behavior and interests to guide you towards a suitable field. Be attentive to your likes and daily habits, and try to find intersections between your passions!
---
---