Insider tips from UPenn Class of 2027 international student who got full financial aid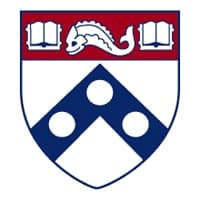 University of Pennsylvania (UPenn)
👀
@gulrukh
from
Uzbekistan🇺🇿
💼 Bachelor: Philosophy, Politics & Economics
⏳ Aug 2023 — May 2027
📍 Philadelphia,
US🇺🇸
🗣 English
✅ Student Visa (F1)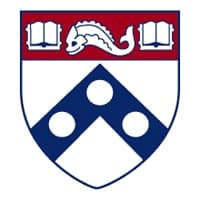 University of Pennsylvania (UPenn)
📍 Philadelphia,
US🇺🇸
💰 100% Financial Need Met
🤓 22,000 Students
🌏 24% International
Presidential High School in Tashkent
My study abroad journey began when I joined the Presidential School in Tashkent, a well-known boarding school. I was one of 24 students selected for the 8th grade after passing special entrance tests. During my time at the Presidential School, I was inspired to study abroad. The competitive environment and conversations about studying overseas made me realize that my options extended far beyond Uzbekistan, with countless universities around the world to explore.
Starting in 8th grade, I diligently prepared for the application process, motivated by my desire to receive a better education than what was available in Uzbekistan. Hearing the experiences of friends and relatives attending local universities, I knew I needed more to become a highly qualified professional.
Countries I applied to
I didn't limit myself to applying only to the United States; I also applied to universities in Japan, France, and South Korea. In Japan, I applied to two universities and unfortunately, I was rejected from both. In the US, I applied to around 15 universities and was accepted to three, including Colorado Boulder, Minerva University, and UPenn, all with varying levels of financial aid. Currently, I'm waiting for two more decisions from universities in Korea and France.
The United States appealed to me because many top universities are located there, and the education is primarily in English. Being fluent in Russian and English, it would be easier for me to study at the undergraduate level in a country where English was widely spoken. Additionally, the US application process is extensively discussed on the Internet. I found an abundance of resources and guidance from various platforms and people, making it simpler to navigate the application process to the US compared to other countries.
How I found out about my Upenn acceptance
First of all, it was a complete surprise! I didn't expect it at all, so I didn't even have my phone ready to record the moment. When I received my first rejections from Yale and Princeton in the middle of the night, I just went back to sleep. But on Ivy Day, when the decisions for UPenn and Columbia were coming out, I was in class, studying computer science. When I opened the application portal, confetti rained down on the screen, and I saw the word "Congratulations" - I couldn't believe it! I was so shocked that I started crying. I felt like all of my hard work throughout high school had finally paid off, and the news quickly spread throughout my school. My classmates told my school counselor, and soon everyone knew.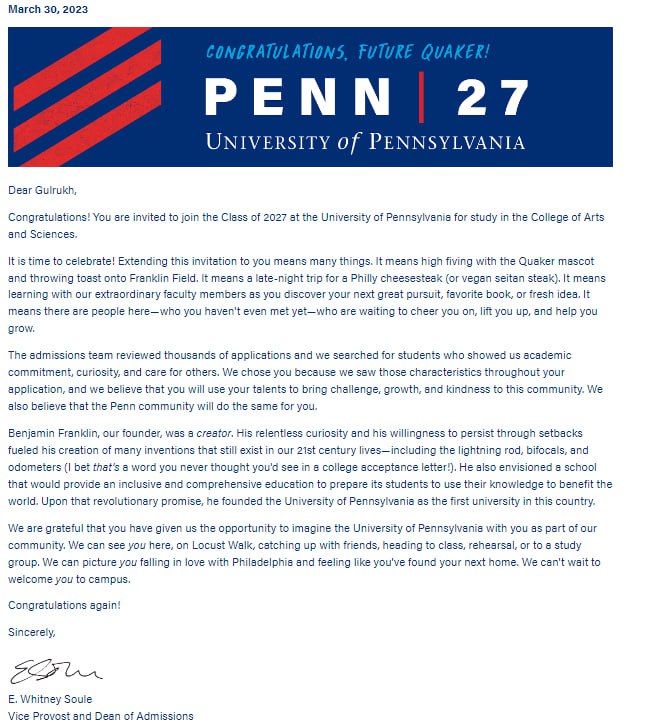 Financial aid from Upenn
I got full financial aid from Upenn, I'm only paying 2k out of 89k which comprises tuition+housing. The financial aid is comprised from grants and work-study (job on campus).

The application process in different countries
When it comes to applying to universities in different parts of the world, each region has its own unique set of requirements and expectations. When applying to universities in Europe and Asia, academic success is highly valued. The focus is on your academic achievements, such as your performance in Olympiads, high GPA, and standardized test scores. In Europe and Asia, universities require a CV that includes everything you've done in high school. Essays are also a part of the application process, but in Asia, they are considered more of a formality, while in Europe, essays hold more weight in the decision-making process. European essays focus more on extracurricular activities and global issues, while in the US, there is a wider range of topics to dive into. In both Europe and Asia, the application process had two stages: the first stage was the initial application, and the second stage was a mandatory interview, which played an important role in your admission. In the US, interviews are usually only assigned to applicants who are on the fence about being accepted.
My stats and extracurriculars
In Uzbekistan, people often obsess over IELTS and SAT scores. However, during my application process, I learned that standardized test scores aren't as important as many think. I went test-optional and didn't submit my SAT scores to the US, while for France and Japan, it wasn't required in the first place. My IELTS score was 7.5, which primarily demonstrated my English proficiency and confirmed that my essays were genuinely written by me, and not a third party.
Rather than solely focusing on test scores, I dedicated my time to various extracurriculars since 8th grade. I knew I was interested in humanities and social sciences, so I pursued activities in those fields. I was the head editor of my school's journalism club, led the music club, played two musical instruments, and earned a diploma in piano. I volunteered at the Center for Advanced Training of Lawyers, assisting professors with papers and presentations.
I tutored primary school students in math and English from both the USA and Uzbekistan, participated in MUNs and TEDx events, and organized a MUN conference at my school. I gave two TED talks at TEDxNational Uzbekistan University and TEDx Al-Khwarezmi. I competed in debate contests, swam for four or five years, and won a Republican-level intellectual competition called Zakovat with my school team.
Additionally, I took on leadership roles to promote opportunities for girls through my school's United Girls Department, striving to provide more facilities and opportunities for them. I also worked as a recruiter for the Eco Foundation.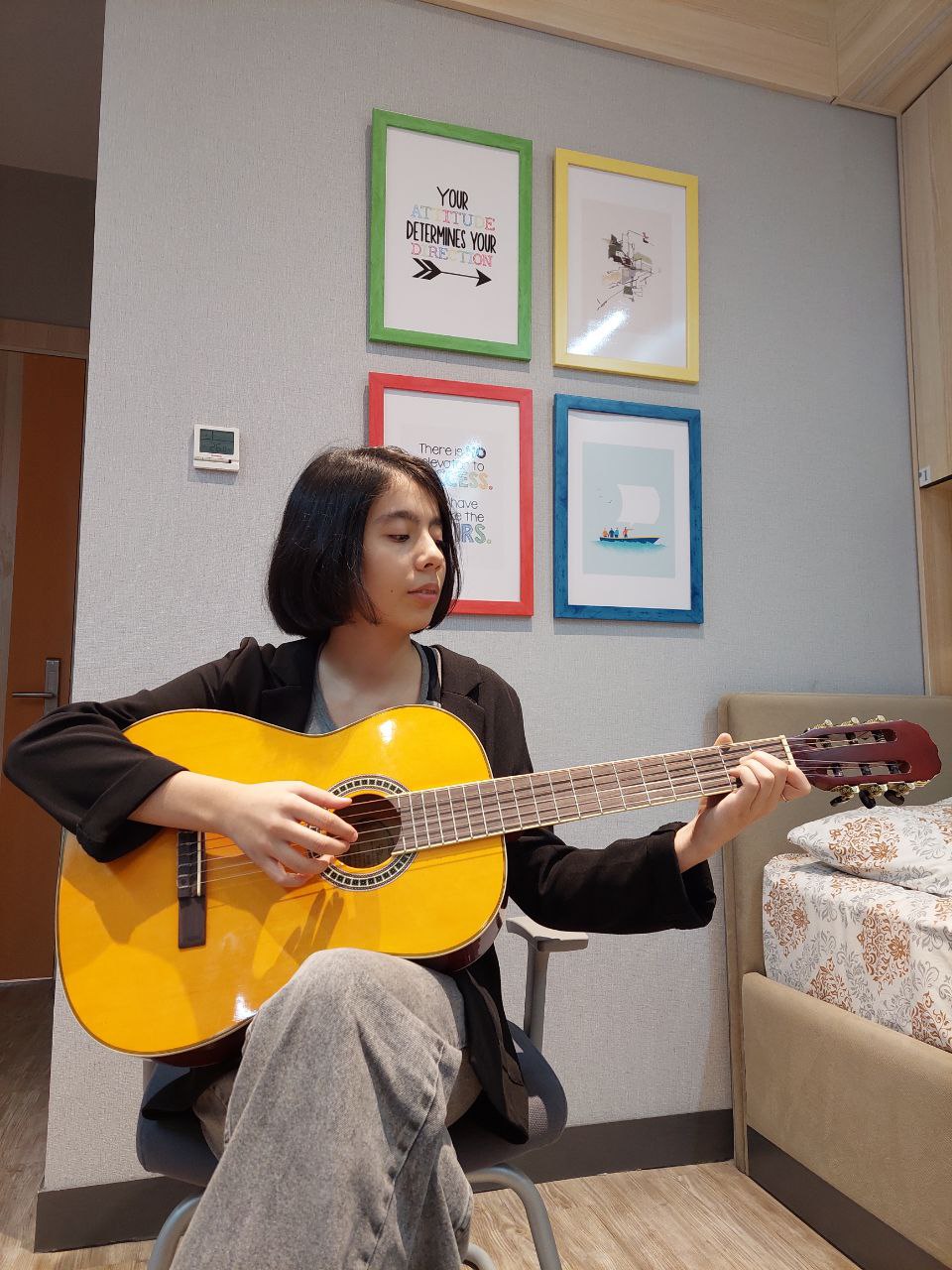 Advice for applications
Stay informed
During my high school years, I kept exploring various opportunities, although there were some I discovered too late, like the FLEX and UWC programs. So, I advise students to stay tuned for opportunities, subscribe to channels that share international opportunities, and always search for experiences that could enhance their resumes.
Manage your time well
In 11th grade, when I started my application process, I planned to spend the summer holidays working on essays and other tasks. However, I ended up procrastinating and didn't even prepare for my SAT in August. I now wonder if I could have achieved more if I hadn't procrastinated so much. Looking back, I think burnout from juggling academics and numerous activities may have contributed to my procrastination.
To avoid this, it's important to find a balance between working hard on your applications and enjoying your high school life. Apart from focusing on the application process, don't forget to cherish your time with classmates, as you may not see them again for many years. The key is to work hard but also be mindful of burnout. Throughout high school, I experienced frequent headaches, which may have been a result of excessive stress and an unhealthy lifestyle. Remember that you are a human being who needs to prioritize your health, especially during such a critical period in your life.
Advice on College Essays
Firstly, essays are essential in the application process. If you have concerns about your application, such as a mid-GPA or lack of extracurriculars, strong essays can help you get into university. Start by writing essays for your safety schools, and gradually move up to your top choices. This way, you'll gain experience before writing for your dream schools.
In your essays, especially "Why X" essays and prompts, focus on being genuine and unique. Top schools pay close attention to these prompts. Do thorough research and avoid merely paraphrasing a university's website. Instead, discuss two or three specific aspects that are important to you in depth. For inspiration, search for essays that helped others gain admission to universities, or even read books that feature such essays.
I didn't have any professional or even amateur assistance during my application process. I wrote all my essays independently and didn't have them checked by others, except for occasionally asking my roommates to look over a few. They mainly pointed out structural mistakes, but overall, I didn't have any professional guidance or enroll in college preparation programs.
Advice on Extracurriculars
For your extracurriculars, even if you think they're not impressive, it's all about presentation. If you describe them in the right way, they'll look better on your application. For example, take the Journalism Club activity. Instead of simply saying you were the head editor of a school magazine, mention that you were a leader responsible for recruiting members, selling the magazine to visitors, and investing the proceeds in charity. Include specific numbers and details to make your extracurriculars more appealing.
Remember that even if you don't hold a leadership position, you can still make your activities sound appealing by discussing the right aspects. Your application's success depends on how you present your experiences and achievements.
Be careful with Early Decision
As you may know, acceptance rates are dropping every year, particularly for top 30 universities. This trend makes it increasingly difficult to get accepted. Many students apply to Early decision (ED) to increase their chances, but it's essential to approach ED carefully. Only apply to schools that you're 100% committed to attending if accepted. Don't rely solely on ED to get into top schools, and plan well for a Regular Decision so you won't have regrets later.
Have a balanced College List
Also, don't become obsessed with getting into a top school. Many excellent students get rejected, not because they're unworthy, but due to the sheer number of applicants. Focus on finding more safety and target schools rather than solely on reaches. Apply to top schools if you want, but also do thorough research to find colleges that match your preferences, not just those that are prestigious or have high acceptance rates. Consider schools that align with your academic pursuits, career goals, preferred weather, or specific programs that interest you. By focusing on finding the right fit, you can maximize your chances of success and happiness in your college experience.
How I found time for all my ECs
One of the biggest challenges faced by students in Presidential schools, including my own, is finding time for extracurricular activities. With classes running from 8:30 am to 3:30 pm, half of the day is already consumed by school, and students are not allowed to leave. Here's how I managed to participate in extracurriculars despite these restrictions:
Online Activities: I sought out various online opportunities, such as tutoring, joining online organizations like Borderless, volunteering for projects like Winner Volunteers, and writing for online journals. There are many online courses, programs, and digital certificates available that can help you build your extracurricular portfolio.

School Opportunities: I took advantage of any available opportunities at my school, even creating clubs like the Journalism Club with the help of alumni. If there isn't a club you're interested in, start one and become a leader. If such clubs already exist, join them and work towards a leadership position over time.

Negotiating with Administration: Despite wanting to participate in outdoor activities and projects in Tashkent, I had to fight with my school administration to gain permission to leave the school. This involved negotiating with them, proving the importance of these opportunities, and emphasizing how they could improve the school's reputation. Persistently advocating for these experiences ultimately allowed me to participate in various off-campus activities.
Thoughts about A-levels
I was studying A-levels at the Presidential school. To be honest, it didn't really align with my career goals in law. The subjects offered were mostly focused on STEM disciplines like chemistry, physics, biology, and mathematics, which aren't directly applicable to my future legal studies. However, for my classmates pursuing careers in engineering, science, or medicine, A-levels might have been advantageous.
But, I can't deny that studying A levels helped me develop some essential skills like self-discipline and time management. With such a demanding workload, I had to get organized and prioritize my tasks effectively. Although, if I had the choice, I would have preferred the International Baccalaureate (IB) program because of its broader subject range.
One of the perks of attending a presidential school was the smaller class sizes, international teachers, and conducive learning environment. It's also important to note that maintaining a high GPA throughout high school is crucial. While achieving this might have been easier in Uzbek public schools, striving for academic excellence in an international school context was definitely challenging.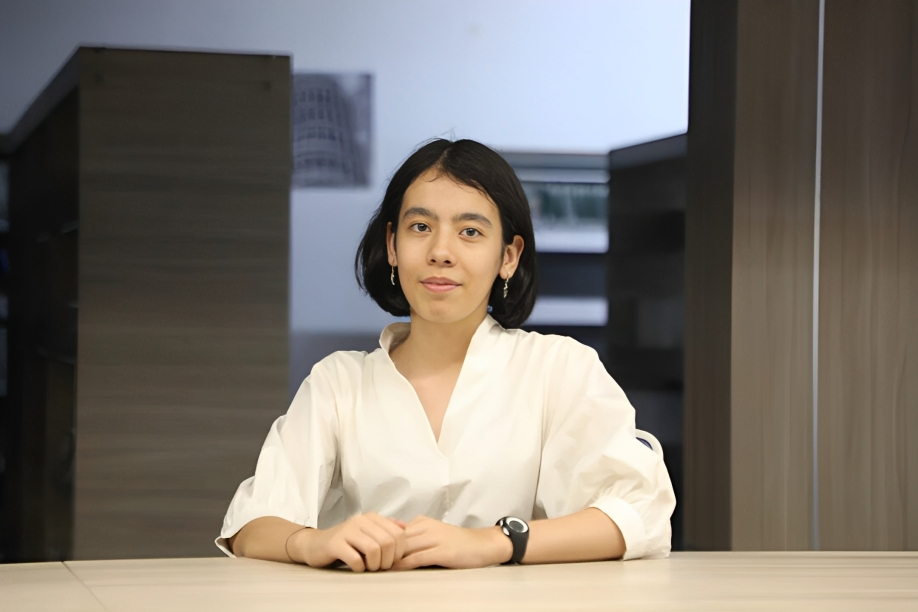 What I would do differently If I were to apply again
In retrospect, I would advise future applicants to research colleges more thoroughly before applying. When I started my college search, I simply chose universities from QS rankings without delving deeper into their offerings. It is essential to select colleges that align with your personal preferences and goals, so invest time in researching them properly.
Another recommendation is to engage in research opportunities, such as working with professors or conducting independent studies. While my extracurriculars were strong, incorporating research would have further strengthened my application.
I also applied to two Japanese universities but was rejected from both, despite learning Japanese specifically for this purpose. Although it was disappointing, I now realize the importance of managing expectations and not placing too much hope in any single outcome. Learning Japanese was still valuable, but perhaps I could have spent some of that time on other pursuits.
Lastly, stressing too much about standardized tests like the SAT may not be necessary. In my case, I applied during a test-optional period and didn't even need my SAT scores. The key takeaway is to maintain a balanced approach and not let anxiety over any one aspect of the application process overwhelm you.
Future Plans
Many people think I will commit to UPenn, and I think so as well, but there is one more university I am waiting for a decision from. Science Po is a French university that offers a great program in humanities and social sciences, and I had an interview with them. The results should come out around April 10th. I think I will be choosing between UPenn, Minerva University, and Science Po. However, I am still more inclined to UPenn and will probably commit to it, making me a part of the UPenn class of 2027. Looking five to ten years ahead, I will probably go to law school, graduate, and become a lawyer. This is my dream, and I hope to achieve it if my perspective on life does not change!
---
---