My Journey to Wharton: How I Got into World's Best Business School with Full Financial Aid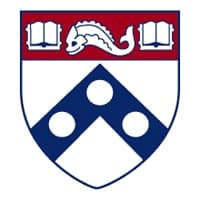 University of Pennsylvania (UPenn)
🌏
@aruzhan.aussat
from
Kazakhstan🇰🇿
💼 Bachelor: Huntsman Program in International Studies and Business
⏳ Aug 2023 — May 2027
📍 Philadelphia,
US🇺🇸
🗣 English
✅ Student Visa (F1)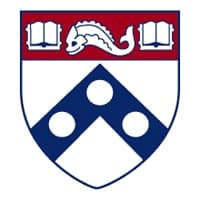 University of Pennsylvania (UPenn)
📍 Philadelphia,
US🇺🇸
💰 100% Financial Need Met
🤓 22,000 Students
🌏 24% International
High School experience
At first, I went to a public school in Astana that wasn't super high-ranked, so studying abroad wasn't on my radar. Then I learned about the Nazarbayev Intellectual Schools (NIS) - it's one of the top schools in Kazakhstan, maybe even in Central Asia. I took the entrance exams, and that year, the acceptance rate was just 8%. I remember it being really tough, but I got in. I ranked seventh, and I want to point that out because it's kind of funny. I'll talk more about that. When I started there, I wasn't thinking about studying abroad. But when I heard everyone chatting about it, like the upperclassmen, I figured I should try it too. I started with some Googling, and by ninth or tenth grade, I knew I wanted to do it.
The funny thing about the number seven is that it turns out I'll be the seventh Kazakh from Kazakhstan at Penn at the same time. That's why I'm emphasizing seven—it's just a funny coincidence.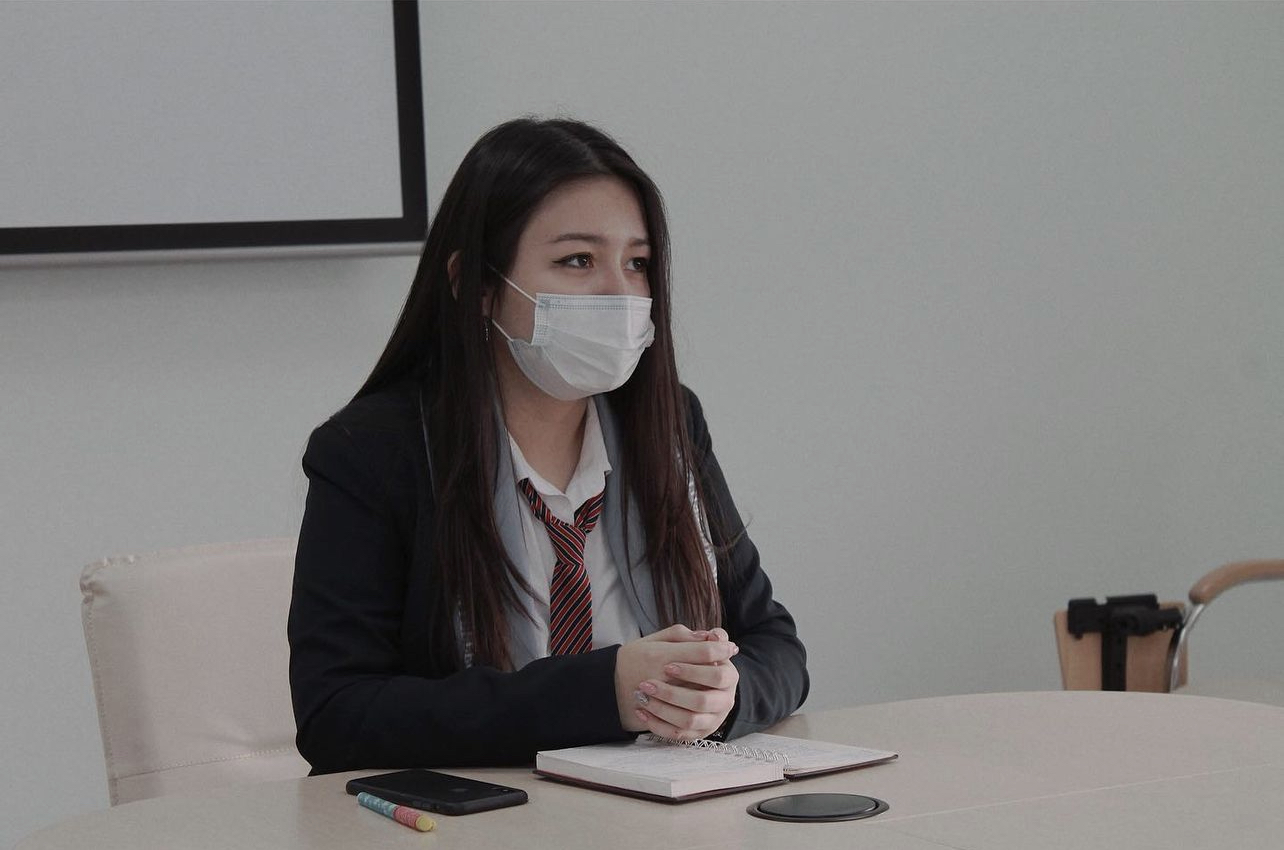 A typical day at school
Right now, my life isn't too exciting since I'm a senior, and my A-level exams are in a week. My days mostly consist of studying. I wake up at six in the morning, head to school at seven, and study all day. When I get home, I work on my online internships and other tasks. So yeah, not much excitement since I'm graduating. However, when I was a junior, things were more fun. My routine was similar—waking up at six and having classes from eight in the morning to four in the evening.
What made my school days interesting, especially as school president, was our involvement in events. We used to host around 50 events a year, which is a lot considering it was over nine months. We were always organizing stuff, talking to sponsors, and engaging with students. After school, I'd usually go to one of my internships or volunteer positions, as I worked with two volunteer funds. It was quite hectic. My days were filled with various activities, and I tried to fit everything in. What I remember most from my junior year is waking up at six in the morning and going to bed at three a.m. It was a lot to handle, so it's hard for me to structure it all in retrospect, but I can say that it was definitely busy.
Workload and Burnout at school
I did experience burnout, and that's a whole other story. It's essential to plan things out because I couldn't keep up with that pace all the time. There was a period when I realized I needed to sleep just two or four hours a day to accomplish everything, but that was only sustainable for about two or three weeks. I knew it would be too much for me, to be honest. This topic is tough for me since I was working so hard and didn't know how to manage my time effectively.
The best advice I can give others is not to push themselves to that extent. It's great to have many extracurriculars or interests, but if you don't plan it all out perfectly, you'll end up exhausted. I had a massive burnout, which I haven't talked about much because people didn't ask. After my junior year, during the summer when I was about to become a senior, I did nothing because I was completely burned out. It was incredibly tough for me. The only thing I did during that summer was write some essays, create some rough drafts, and pass my exams. That was it for me, as I had overworked myself.
Why Upenn was my dream
Initially, my interest in UPenn was quite superficial. In ninth grade, I thought about studying business and discovered that Wharton was the top undergraduate program. It wasn't until tenth grade that I began researching more and building my college list when I realized UPenn was an excellent school. However, I didn't know if I would apply for early decision until eleventh grade.
My decision came down to three main factors. First, UPenn's interdisciplinary approach is outstanding. Even as an economics major at Wharton, students must take classes at the College of Arts and Sciences or Engineering, thanks to the core curriculum. UPenn also supports interdisciplinary research, such as my project that combined neurobiology, marketing, and finance. I believed UPenn would be the perfect place to develop my interests.
Secondly, UPenn is known for its pre-professional focus. Undergraduates work hard and often don't require graduate school, as they concentrate on career development from their first year. This aspect was particularly appealing to me.
Lastly, UPenn's dual degree programs, like the Huntsman program, were a significant draw. Huntsman combines the College of Arts and Sciences with Wharton, integrating international studies, business, and economics. Other programs might combine engineering and economics. UPenn is well known for these dual degree programs, and the Huntsman program was precisely what I was looking for in my education.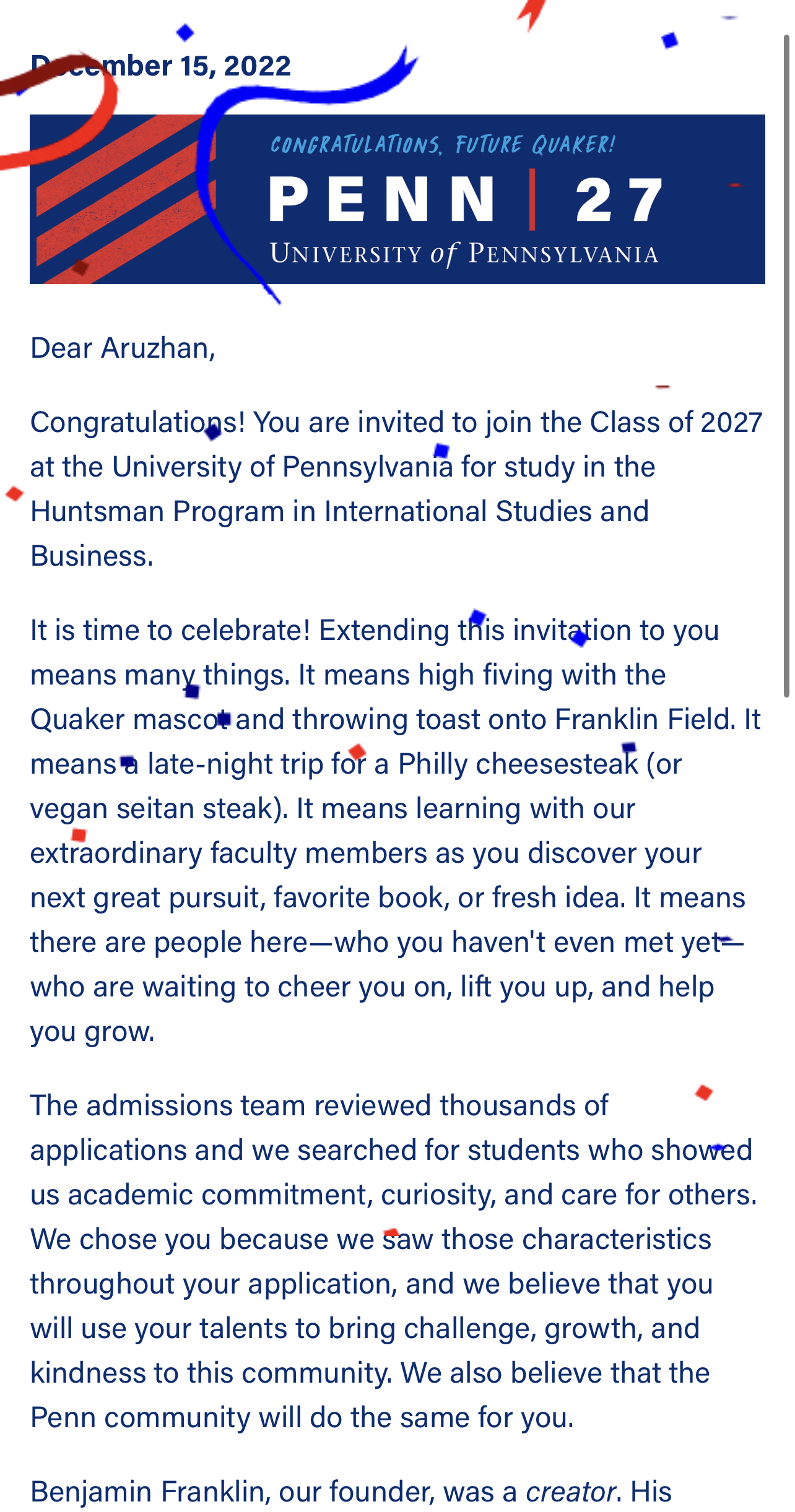 Colleges I applied to
I was fortunate to complete my application process early during the early decision round because I got into Penn. I applied to five universities and received offers from all of them. To list them, I applied to four universities for early action (non-binding): Hong Kong University (two programs), Hong Kong University of Science and Technology (best university in Asia for business, two programs), City University in Hong Kong (three programs), and Northwestern University in Qatar (one program, as it's an American university). The fifth school was the University of Pennsylvania, my early decision (binding) and dream school. After being accepted there, I stopped applying to other schools.
I didn't want to apply to numerous universities because I couldn't find many that offered what I was looking for. It was crucial for me to attend a university with a pre-professional focus, a business program that could be applied in real life, and highly qualified professors. Additionally, I needed full financial aid. Considering all these criteria, I didn't have many universities to apply to and didn't want to waste time, money, or energy on schools I wouldn't attend even if accepted.
Stats and Grades
My cumulative GPA was 5.0, and I had an IELTS score of 8.0. I received five predicted A* grades, which is the highest mark for A-levels (5 out of 5). That's about it. I applied as a test-optional candidate.
Awards & Honors
Initially, it was challenging to fill out this section of common app because my awards were diverse and scattered across different fields. To decide which honors to include, I created a mind map of my personality, extracurriculars, and awards, focusing on those that highlighted my work with global organizations and innovations. First, I mentioned my role as the Ambassador of Kazakhstan for the OECD's Future of Education and Skills 2030 project, working in a focus group with policymakers and teachers to minimize the equity gap in education. I also wrote about my acceptance to Johns Hopkins University's competitive summer school, where I studied the psychology of memory.
Although I didn't list all my awards in the designated space, I included them in the additional information section. I mentioned the Elbasy Medal, which recognizes active leadership in various fields in Kazakhstan, and a bronze award in the English Language Olympiad. Additionally, I shared my local achievement of being named the best leader for three consecutive years at my school, a first in its history. One of my recommenders emphasized this as well, and my admission officer took note of my community leadership.
In the additional information section, I also included other awards, extra extracurriculars, and an essay to provide a comprehensive picture of my accomplishments to the admission officers.
Finding Opportunities as a High School Student
Discovering opportunities as a high school student can be quite spontaneous. When you're passionate about something, you'll naturally find the right people, places, and events. To illustrate this, let me share a brief story about my experience with the OECD.
My school knew I was fluent in French, and they would often invite me to events involving the French embassy. One time, we had a French guest, Dominique Dimey, a singer who addressed children's rights in her songs. As a 14-year-old, I volunteered to perform at one of her concerts, and through her songs, I became more aware of children's rights issues.
This experience sparked my interest in the topic, leading me to learn more about inequity in education. Eventually, I discovered the Education 2030 program and asked my school administration to nominate me for the forum. After participating in the forum, I began working with UNICEF.
The key takeaway is that opportunities can arise unexpectedly if you express your interests and actively research related areas. It's crucial to talk to people, engage in various activities, and be open to new experiences. By following your passion, you may find yourself in situations you never anticipated and uncover numerous possibilities.
Extracurricular Activities
My extracurricular activities played a significant role in my application, as they were more impactful than my awards. My involvement in various activities, essays, and recommendations contributed greatly to my application success.
Some of my extracurriculars included:
Serving as president of the student government for two years and being a member for five years, during which I participated in various activities.

Co-founding the Children's Rights Club, supported by UNICEF and the Kazakh National Volunteering Network.

Co-founding a Volunteering Fund that organized around 40 events annually, helping animal shelters, nursing homes, and orphanages, with a team of 50 volunteers.

Conducting independent research, presenting my findings at international forums such as the International Week of Professionals in Latvia.

Studying seven or eight languages at different levels, driven by a strong interest in various cultures.

Working as a tutor, which was further explained in my essays and recommendations.

Pursuing my passion for arts and music by singing professionally for eight years as a contracted solo artist and playing dombra, a national instrument, for five years.

Managing family responsibilities, working with a person with special needs in my family, which helped me understand my priorities and reflect on them in my essays.
How to describe Activities and Awards in the application
The first thing to remember is that it's not only about how strong your accomplishments are, but how you present them. As I mentioned before, I created a mind map, which was an approach they hadn't seen previously. This is really cool because, first, you need to wrap up your personality by creating a mind map. Once you understand how one thing logically follows another, you can start thinking about crafting an interesting story that also showcases your passion.
Let me give you an example. I previously described a story involving the French Alliance and the OECD. In my personal statement, I mentioned this experience and explained how I became interested in children's rights in the OECD and UN. I connected this interest to my personal and life experiences. Additionally, the story was presented from a different perspective in one of my recommendation letters.
The point is, you don't just provide the story or the fact; you need to include what came before and what followed. Show that the experience had a lasting impact on your personality and spurred you to make changes. In the future, you'll continue making a difference. It's crucial to provide context so that the admissions officers can fully understand your story.
Another important aspect is having your application reviewed by other people who can offer justification for your words. Your recommenders may see your story from another perspective, which can add depth and help your application.
Importance of college essays
Essays are incredibly important. In fact, there's a saying about showcasing your charisma, charm, and personality in essays, making admission officers believe you're the perfect fit for the university. While this may not be entirely true, it's effective when you reveal your character and the story behind your experiences, because it presents you as a genuine person.
Admission officers face the challenge of selecting candidates from a pool of highly qualified applicants with competitive stats, honors, and extracurriculars. This is where your personal story, background, and character come into play. Although I can't speak for all universities, Penn certainly values personality in their admissions process.
Nailing your interview and essay is crucial, as it demonstrates your interest and commitment to making a difference once you're accepted. Universities want to invest in people who will take action and contribute to their community. Your essays can be a deciding factor in your acceptance, so make sure to give them the attention they deserve.
How to write better essays
"Show, don't tell" is a crucial principle in essay writing. Let me illustrate this with examples from my essays. Instead of simply stating your passion for inclusivity or desire to change the world for people with special needs, you need to share situations that help people understand your actions and capabilities.
For instance, I was working on a TikTok project, and our team created a video that went viral with over 10+ million views. It started a trend called "Anti-Backpack Day." A 12-year-old girl from a small village reached out, thanking us for creating the video because it allowed their school to participate in the trend. This showed me that even small actions, like a TikTok video, can have a significant impact.
Another example comes from my personal statement. I visited a nursing home during New Year's Eve, where I sang and hosted an event. A blind man, who found me through my voice, thanked me in tears for giving him a sense of the holiday spirit. This experience inspired me to start volunteering and seek sponsorship for the nursing home. Again, this story demonstrates how taking action, rather than just talking about it, can make a difference.
In college admissions, schools are looking for individuals who have the potential to change the world. You don't need to be a genius with countless gold medals or have cured cancer to get into an Ivy League school. What matters is showing that you are taking steps towards your goals and have the potential to make an impact. So, remember to "show, don't tell" in your essays, by providing examples of your actions and the effects they had.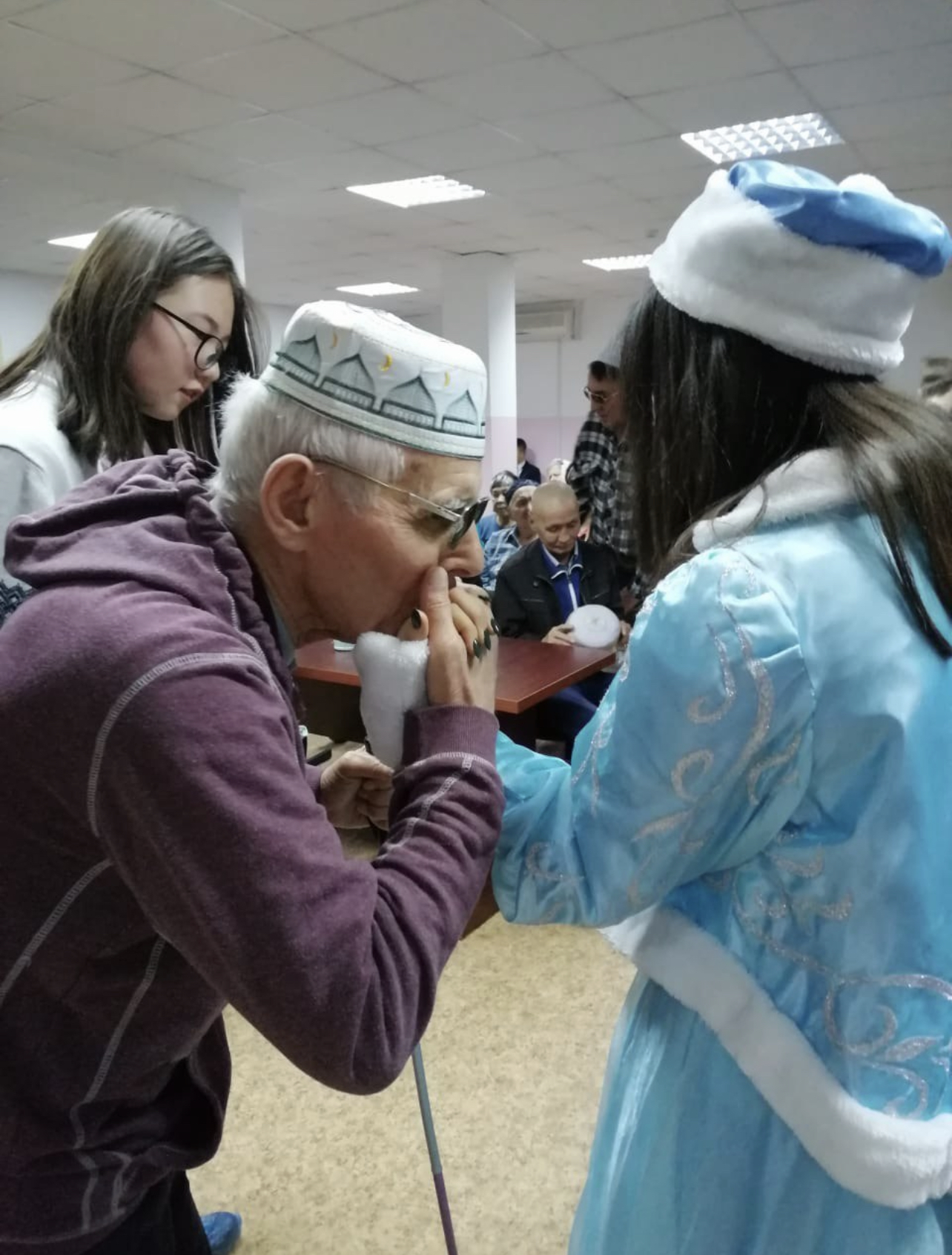 Helpful Resources for writing essays
First and foremost, I recommend College Essay Guy. He's well-known and incredibly helpful. When I wrote my personal statement, I used his feelings and needs exercises, which helped me understand what I wanted to convey. He has various resources, including explanations for supplemental essay questions and step-by-step advice.
Another useful resource is CollegeVine, which also provides explanations for supplemental essays and gives step-by-step guidance.
As for consultants, while I didn't use any paid services, I took advantage of free consultations with EducationUSA. If you have the opportunity, consider attending their summer camps or clubs. It's essential to have someone review your essays because, as the author, you might not realize when your writing is unclear. My consultant at EducationUSA, Raushan, helped me understand that my first draft was difficult to comprehend. So, always have someone proofread your essays, even if it's just a friend.
Timeline for writing essays
Many people start writing essays during their junior year, but beginning in sophomore year can be beneficial for brainstorming. Take the time to think about your personality and what you want to convey in your essay. Personally, I created a private Telegram channel where I was the only member, and I wrote down all my ideas starting from sophomore year. Whenever I felt inspired, I would note it down, and by the end of my junior year, I had a long list of potential topics.
Ideally, you should draft your first essay around the end of your junior year, between April and May. Aim to finish your personal statement by August 1st or September at the latest, as this will give you time to work on supplemental essays when they become available on August 1st. Use the ideas you've gathered during your sophomore and junior years as a basis for your supplemental essays.
Common essay mistakes
One common mistake is attempting to impress admission officers with language skills. While it's great to showcase improvement, it's important to remember that they understand English may not be your first language. Focus on conveying your ideas and stories clearly rather than using words or expressions you're unsure of.
Secondly, don't prioritize creativity over the quality of your essay. Some people become overly creative, causing their main message to get lost. Maintain a balance between creativity and substance.
Avoid overusing Grammarly or similar tools. While they can be helpful, excessive reliance on them can alter your intended message. Use these tools to refine your grammar, but be cautious not to change the meaning of your writing.
Lastly, don't try to copy essays you find online. Reading sample essays can be helpful, but attempting to replicate a perceived "Ivy League formula" may not work for your unique story. Stay true to yourself and focus on presenting your experiences and perspective.
My plans for the future
As of April 2023, my current plans revolve around the two diplomas I am pursuing: a Bachelor of Science in Economics and a Bachelor of Arts in International Studies. With these qualifications, I'm considering roles in public policy, perhaps with organizations such as the UN or World Bank, where I can work on projects that bring about real change.
Since I'm attending Penn and enrolled in the Huntsman program, I'm also interested in learning more about finance, numbers, and how they intertwine with my other areas of interest. However, I remain open to exploring various opportunities that come my way, including potentially pursuing music professionally, as long as I can make an impact.
As for my varied interests and pursuits, I think it all comes down to my curiosity and thirst for knowledge. I'm always eager to learn new things, explore new fields, and challenge myself in different ways. I believe that every experience, no matter how big or small, can contribute to our personal and professional growth in unique and valuable ways.
Final advice to applicants
Advice for applicants really depends on the country you're applying to, but for those applying to the US, remember that your profile, stats, and story are unique, and you can't change what you already have. Instead, focus on being sincere and working on the things that truly interest you. Don't volunteer or conduct research just for the sake of it. Be genuine and authentic in your pursuits, and remember that your story is what sets you apart.
If you're 15, don't be afraid to try new things and ask for help. People are often willing to lend a hand, and you'll learn a lot from taking risks and exploring your interests. At 16, once you've discovered what you're truly passionate about, don't be afraid to take on leadership roles and responsibilities. You'll gain valuable experience and enjoy the process. Finally, at 17, be proud of who you are and what you've accomplished. Don't stop learning and growing, and continue to pursue your passions and interests with authenticity and sincerity.
---
---