How to build your College List as an international student
Get into your dream university abroad with Borderless Sensei
Get Started →
Why is College List important
Choosing a college that fits your academic, social, and financial needs is an overwhelming process, but the good news is that you have lots of options! There are 30,000+ universities in the world, and 4000+ in the US alone.
You can not (and should not!) apply to every school that accepts international students and provides scholarships. Every application requires tremendous effort, and instead of a few excellent applications, you might end up with a hundred mediocre ones. Needless to say that mediocre application will not earn you a spot at world's best universities.
College List is a list of 10-15 universities that perfectly match your academic, social, and financial needs. It means that you will be happy going to any of the schools on your list!
How to research universities
Okay, so how do I know what universities match my needs? The answer is through extensive research! Use the following questions to guide you:
What do I want to study? Which universities offer my major?

Where do I want to live? Big city vs. small city? Summer all year long vs. four seasons?

What kind of financial support do I need? In other words, what is my budget for education?

Do I want to have 300 classmates or 10,000?

What do I want to do after I graduate?

What kind of activities do I want to do on campus? Ex: sports, arts, etc

Can I study in a language other than English?
You can find such information on universities' websites, Borderless, YouTube, and various blogs.
Reach & Match & Safety Schools
As you do your research, you will also pay attention to the acceptance rates and academic performance of current students to evaluate your chances. If your SAT score is less than 1300, it is unlikely that you will get into Ivy League universities. It's very important to be realistic and separate your colleges into the following categories:
Reach Schools
Reach universities are the hardest to get into — they have the lowest acceptance rate and highest academic standards. At the same time, reach schools should be possible to get into: even if your scores are slightly lower, you might have amazing extracurriculars or outstanding essays. Every Ivy school will fall into this category.
Match Schools
Match schools are universities where the academic profile of admitted students matches yours. Once you see that your GPA and SAT scores are in the same range as those of current freshmen, you found your match school!
Safety Schools
Safety schools will have the highest chance of acceptance, as your performance should exceed that of the average admitted student. It's important to note that acceptance to a safety school is never guaranteed: if you write a crappy essay, your chances will drop to zero.
It's recommended to have 3-5 universities in each category. When I myself was a student, all of my reach schools were in the US (NYUAD is not in the US, but you get what I mean), but my safety school was in Russia. Diversify your options as much as possible🌏✨
Build your College List on Borderless
Once the research process is over, it's time to put together a list! You can do it directly in Borderless, using smart features and notifications which will remind you of the upcoming deadlines and new content about universities on your list.
Step 1: Start with a template
You will find your template by clicking on your Profile icon in the top right corner and heading over to "🎓College List". Your College List is private!
Step 2: Start adding universities from our database
You can then start typing the university name in the first column and selecting it from the list. The location will be filled automatically.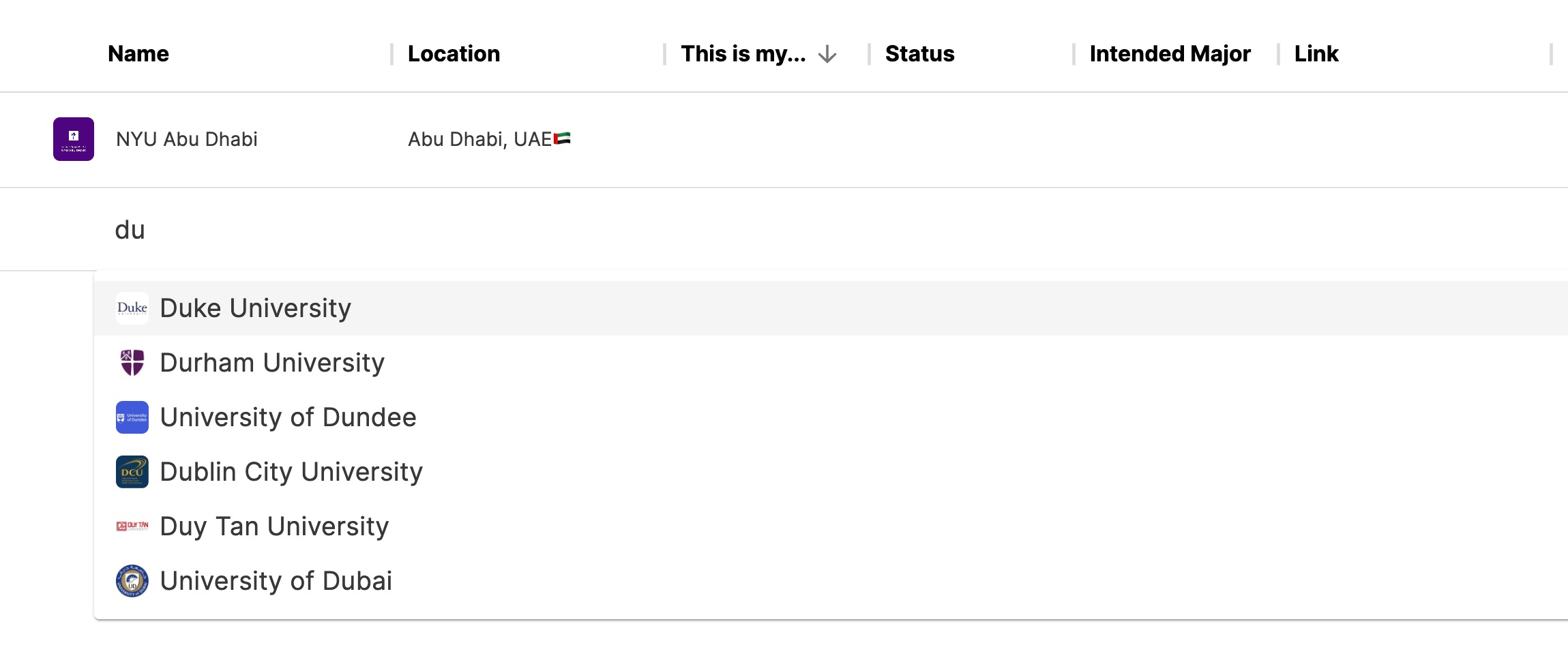 Step 3: Fill out the rest
The rest of the table is for you to fill out! Add information about deadlines, financial aid, acceptance rate, application fee, etc. Our template will make sure all of the key information is in one place.

Step 4: Keep track of your progress
Once your College List is created, it's time to start applying! Use the "Status" column to keep track of your progress and stay tuned for notifications on new content.
Advice on College List
Do not add 30 universities to your list! It is not realistic to prepare a high-quality application for each while balancing schoolwork, friends, family, and sleep.

Remember that acceptance is never guaranteed, so put 100% of your effort into your safety school applications

Spend a lot of time researching universities. It will not only help you build a balanced College List, but will come in handy when you write your essays.