How to navigate a university website - the only source of information you need, as an International Student
Get into your dream university abroad with Borderless Sensei
Get Started →
Let's start with this: a university website is THE BEST, most reliable, most updated, and most comprehensive source of information. However, it can be confusing to navigate as an international student, particularly if you are unfamiliar with college terminology. This guide will take you through four key sections of the website: admissions, scholarships, majors offered, and contacts. By the end of this guide, you will have the skills and knowledge to confidently navigate your college's website and find the information you need to succeed.
We will use NYU's website as an example for this guide, but the process is applicable to any website you encounter. A few words may change, but you won't be lost for sure.
Admissions Information
Admission requirements vary from university to university, so it's important to check them on each individual website. For example, you should check if the SAT is required and how many recommendation letters you need to submit.
To get started, head over to the Admissions section of the website and select Undergraduate Admissions if you are applying for a Bachelor's Degree. If you are applying for a Master's or PhD, select Graduate Admissions.

Next, your goal is to find application instructions and requirements. Look for instructions for First-Year Applicants, as you will be applying for the first year of university. This section will provide you with information on what documents are required for your application, how to submit it and what are the deadlines.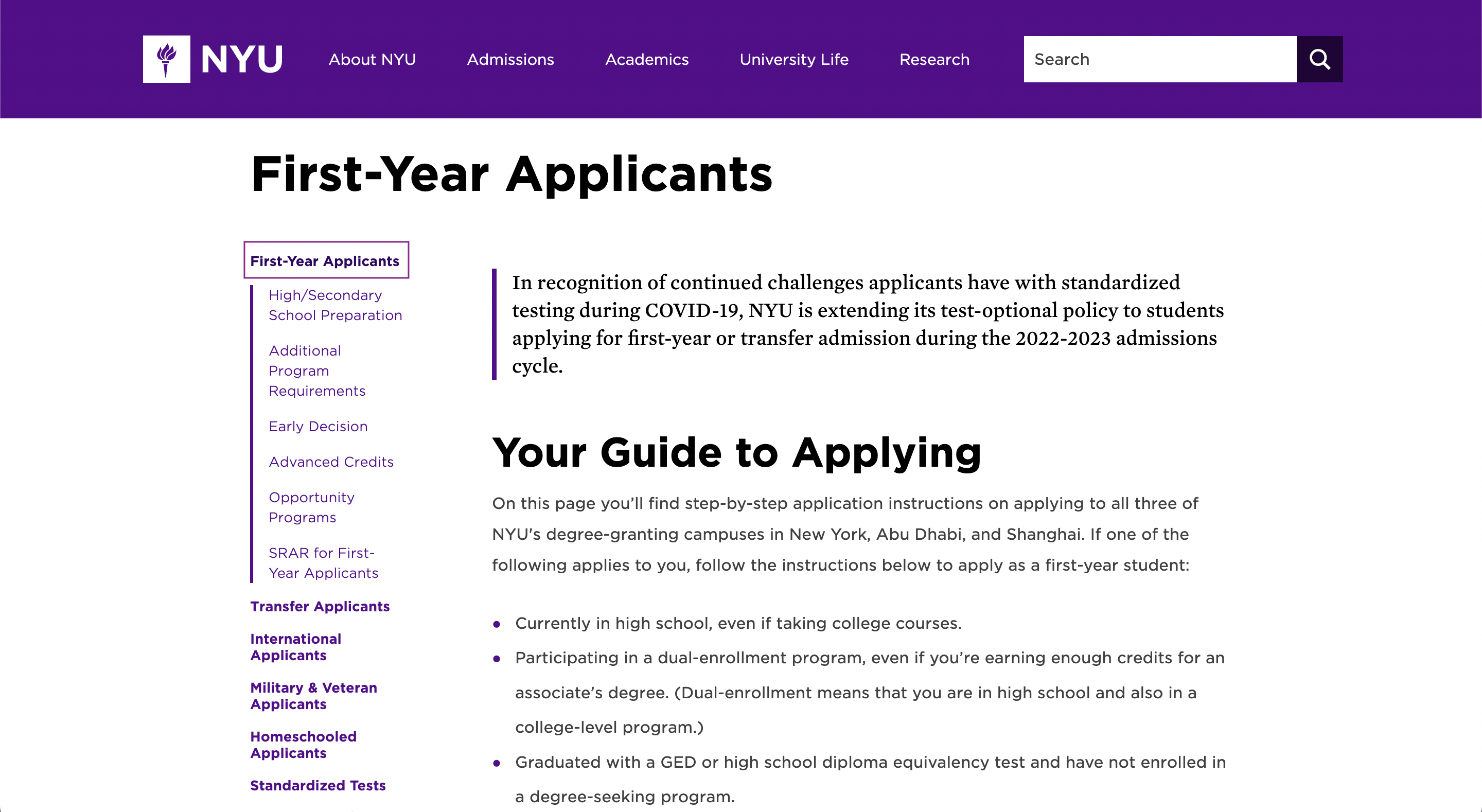 For example, here is very detailed information on what language tests the university accepts, such as TOEFL, IELTS, etc. Make sure you read through all the information carefully and pay attention to details.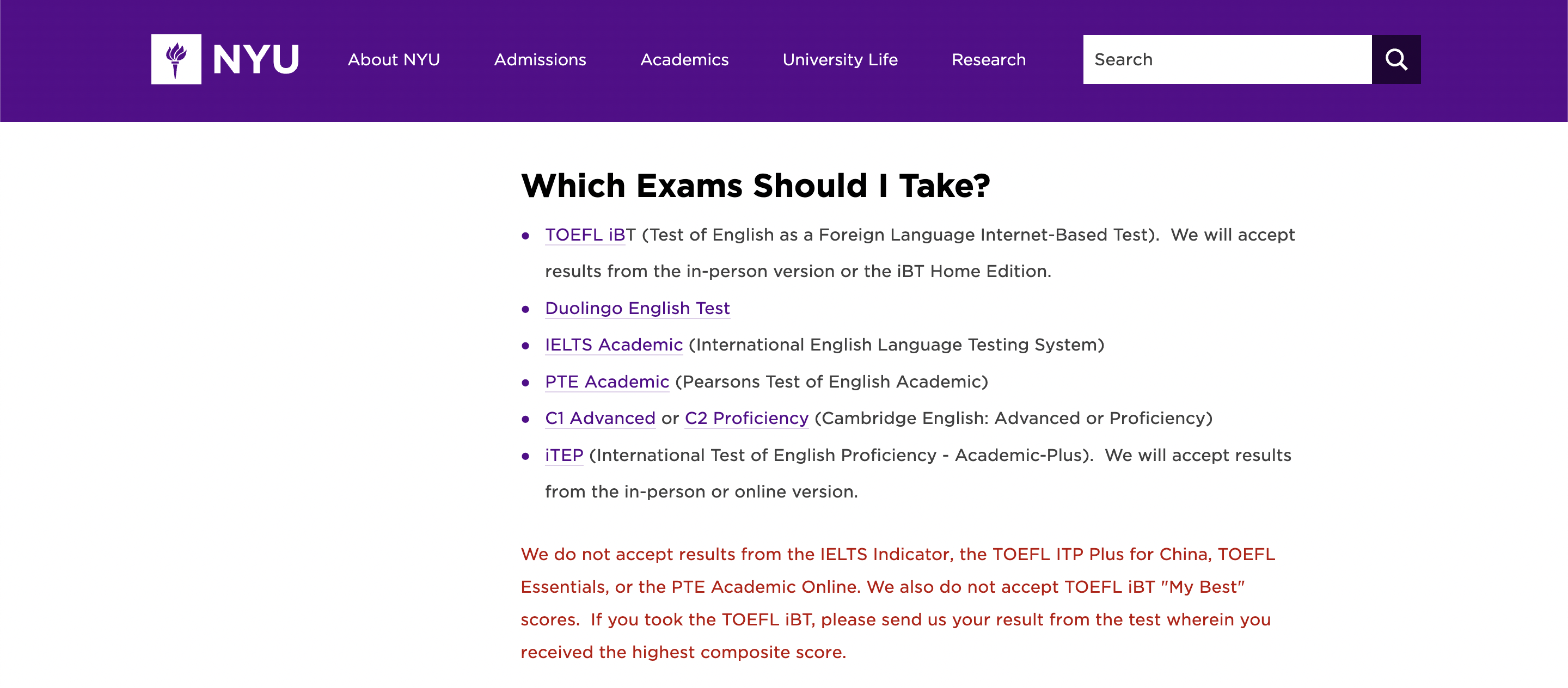 Once you are familiar with the general requirements for applicants, it's important to review the page dedicated to International Applicants. This page will provide additional eligibility and application requirements specific to international students, information on financing options, and visa requirements and process.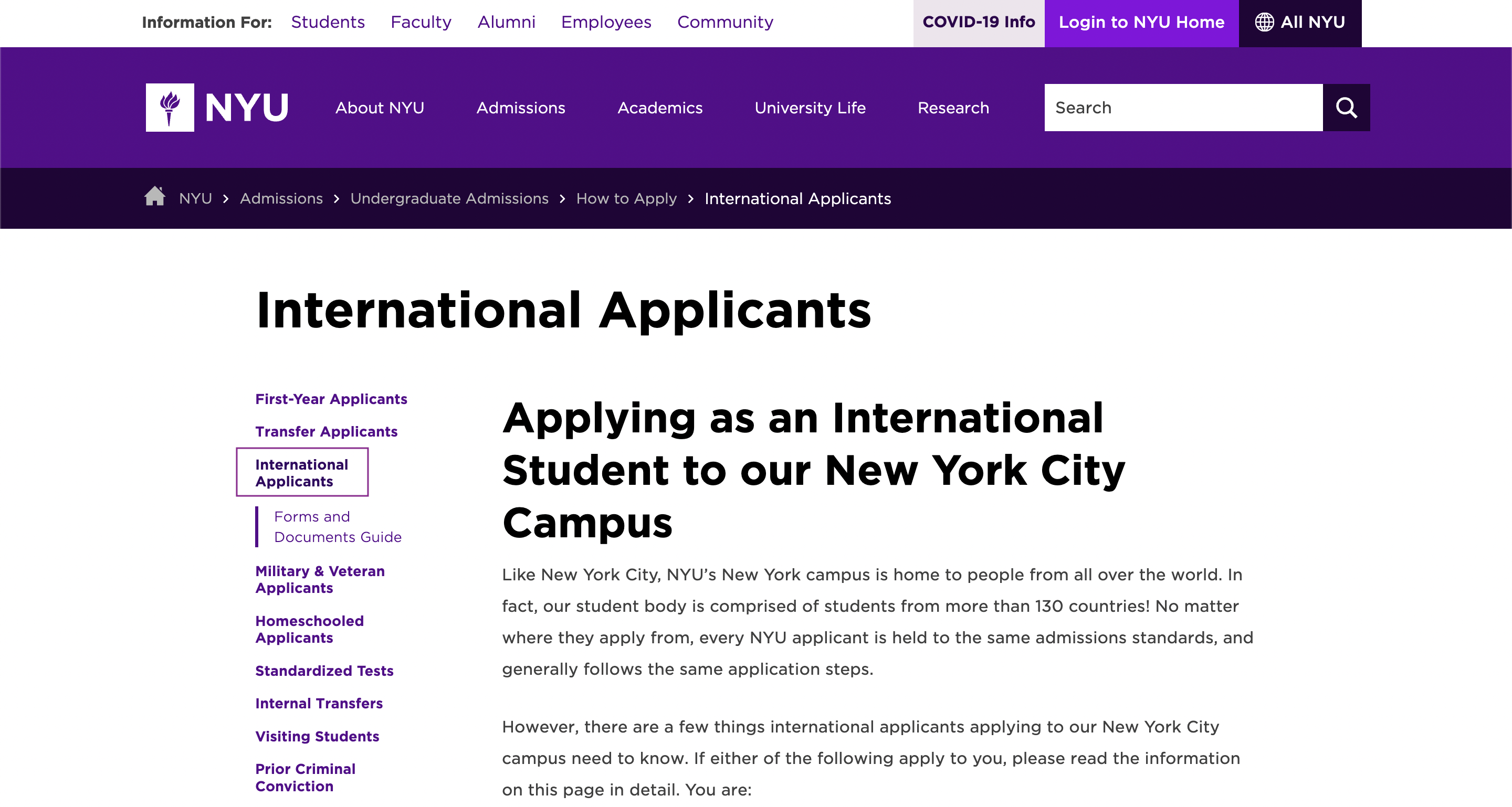 Financial Aid & Scholarships
Next, let's research scholarship options at NYU. If you are not familiar with funding options for international students, check this guide first.
Information on Financial Aid and Scholarships is on the page called...Financial Aid and Scholarships ;) It's also important to check the International Applicants page we discussed earlier, as it may have additional funding information specific to international students. Be sure to carefully review both pages.

On the Financial Aid and Scholarships page, you will also find information on how to apply for financial aid for both domestic and international students. Pay attention to the email of the financial aid office provided on this page. If you have any questions about your eligibility for aid or the application process, simply email them!
Majors & Minors
The final important piece of information to consider is the majors offered at the university. Even if scholarships are available, it's not worth applying to a university where you cannot study what you want to study. To find a list of majors offered, navigate to the Academics section of the website and select Academic Programs.

And just like that you are presented with a list of every single major offered at the university!
Contacts of the university
Lastly, you need to be able to find contacts of the university. The contact information of the financial aid office is just one example of many. The university staff is paid a lot of money to reply to your inquiries, so please use it!
University contacts can usually be found in the footer of the website, often under a section labeled Contact Us.

The two contacts you will likely use the most are the Admissions and Financial Aid office. The Contact Us section will provide you with not only emails but also phone numbers for these offices, making it super easy to reach out for assistance!